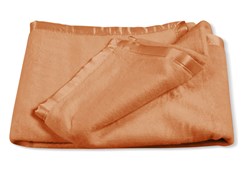 The colors are great, nicely made and a good heft to the feel of the silk.
Boston, MA (PRWEB) January 07, 2014
As a leading manufacturer and retailer of silk bedding wares, Lilysilk Bedding Store has recognized the new trend in 2014, and introduced its delicately designed silk blankets to customers at home and abroad for the coming spring. Made from 100% pure and natural silk, these blankets are hypoallergenic and organic which are used well in Spring.
Lilysilk.com is offering 3 colors of silk blankets with all sizes available from twin size to king size. All these three colors: yellow, orange and pink seem warm and sweet. Made from 100% pure silk, these blankets are popular among housewives.
One customer from New York Wrote to the company like this, "Top Notch! I ordered 2 mulberry silk blankets after reading how beneficial they were for those who are prone to allergies. I am so pleased with them. The colors are great, nicely made and a good heft to the feel of the silk. The blankets were delivered very quickly from China and vacuum packed in a small box. I think this company is very professional and will be buying from them in the future."
Lilysilk never stops its steps to be much better though it receives so many praises from customers. Its CEO Mike Lee is a modest gentleman. "We are really happy to hear good words from customers. It shows that we should work harder to keep our goods' quality and our service... The silk blanket on our website really sells well," says Mike Lee.
In addition, the company also offers other silk sheets, such as duvet covers, fitted sheets, flat sheets, pillowcases and mattress toppers. All these products are high quality at competitive prices. Much more information can be found at: http://www.lilysilk.com/.