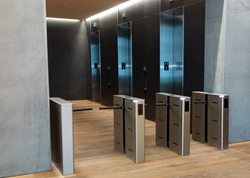 This is an exciting new building in San Francisco and we are happy to have Fastlane securing the entry.
Austin, TX (PRWEB) March 11, 2014
Smarter Security, Inc., provider of premium, innovative entrance control and outdoor security solutions, today announced the installation of its Fastlane Plus 400MA turnstiles for a new San Francisco downtown office building. As the first speculative development to start in San Francisco since 2006, the building is equipped with sophisticated elevator destination dispatch technology along with striking contemporary architecture. Fastlane Plus is integrated with the elevators and supports both of these features while automating lobby security for the building.
"With its unique design features, this is an exciting new building in San Francisco and we are happy to have Fastlane securing the entry," said Jeff Brown, CEO of Smarter Security. "We frequently work with customers to tailor pedestals to accentuate the aesthetics of a particular building, and we're seeing a growing interest in elevator destination dispatch being tied into the turnstiles. We've worked with all the major elevator companies and believe this combination of speed and security adds great value for tenants."
The property has three lanes of Fastlane Plus 400MA turnstiles securing access to the elevator bank serving the ten-story building. A key reason for installing optical turnstiles in the development was to streamline the speed of entry and office access for tenants. Fastlane offers the fastest throughput and Smarter Security worked with the systems integrator and the elevator subcontractor to integrate destination control such that a tenant or visitor is directed to the optimum elevator as he/she passes through the turnstile. Customization led to black barrier arms and matching black reader windows to complement lobby elements. The client selected Fastlane Plus for its functionality and aesthetics after observing its performance in another building.
Smarter Security's Fastlane Plus 400MA is an optical turnstile with barrier arms that quickly drop into the pedestal sides to allow access for authorized users. The barrier arms are unique in the industry in that they break away in either direction for safety and have an automated system that adjusts them to horizontal alignment which maximizes aesthetics. Intelligent Fastlane optical technology ensures tailgaters and other intruders are alarmed upon entry while minimizing false alarms. Fastlane Plus 400MA is also the industry's only barrier arm optical turnstile with a UL 2593 listing and IP connectivity to manage the turnstiles over a network.
About Smarter Security, Inc.
Smarter Security provides premium and innovative entrance control and outdoor security solutions to help organizations protect their people and assets in a world of ever-present threats. Since 1992, Smarter Security has offered Fastlane turnstiles, the most elegant and intelligent optical turnstiles available, which protect thousands of commercial and governmental lobbies on six continents. Smarter Security also offers perimeter intrusion detection systems, including SmarterFence, a fiber optic fence-mounted sensor. For more information, please visit http://www.smartersecurity.com.
Fastlane is a registered trademark of Integrated Design Limited.
# # #