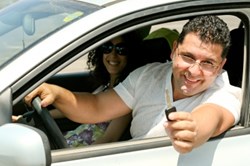 There are thousands of drivers who are turned down daily by known insurance companies.
Miami, Florida (PRWEB) August 13, 2013
Drivers who are at risk for accidents or other issues that can raise the cost of insurance could have difficulty finding a company to underwrite a policy. The AutoProsUSA.com company is now allowing drivers to search for high risk auto insurance rates through its easy access form at http://www.autoprosusa.com/insurance.
Some companies have established rates exclusive to drivers with more than one accident or other instances that could be considered high risk on a policy.
Some drivers are required to submit an SR-22 bond as assurance that rates will be paid on time. A man or woman who has been denied recently for insurance could find the new search tool beneficial online.
"There are thousands of drivers who are turned down daily by known insurance companies," said an insurance expert at the AutoProsUSA.com company.
Thousands of consumers visit the Auto Pros company daily to purchase automotive parts and many people have made requests about finding insurance.
The company staff contributes to updating the new insurance finder system online. A back end program is now used to link brokers with the company tools to find high risk rates that are lower than what many companies advertise publicly. This information is maintained hourly to ensure rates quoted are accurate.
"Our system takes away the phone calls, letters and special requests that some people make when they try to convince insurers to create better high risk rates," the expert added. A single zip code is now all that is required to match a driver with the best rates in a central location in the U.S.
The search tool launched online can be used 24 hours a day and all policies that are processed are between insurers and drivers are not overseen by the Auto Pros USA company.
About AutoProsUSA.com
The AutoProsUSA.com company supplies consumers with easy to access replacement auto parts as well as quotes for insurance that are provided by top carriers in the United States. This company has recently added programs for automotive warranties and other services related to the maintenance of a vehicle. The AutoProsUSA.com company provides a national toll-free number that is easy for consumers to use in all parts of the United States and Canada. The 2013 launch of the junkyard parts finder online now links buyers with hundreds of secondary sellers online.