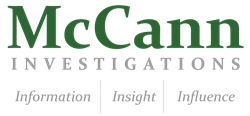 Fraud cases can be extremely complicated, which means any private investigator taking the case must be properly equipped with all of the tools to get the job done
Houston, TX (PRWEB) February 28, 2014
McCann Investigations, a digital security and private investigations firm that operates all throughout the state of Texas, announced that its Houston branch now provides thorough examinations for fraud cases with the assistance of a variety of high-tech tools.
McCann's Houston private investigators leverage the latest technologies in conjunction with more traditional private investigation services to give its clients the best, most well-rounded services possible. The agency's findings often are the difference in fraud cases, which hinge on evidence found in these types of investigations.
"Fraud cases can be extremely complicated, which means any private investigator taking on the case must be properly equipped with all of the proper tools to get the job done," said Daniel Weiss, Managing Partner at McCann Investigations. "At McCann, we put a great deal of emphasis on having the best technologies available to ensure positive case results for our clients."
Investigators from McCann use a full range of cutting-edge covert surveillance and remote viewing technologies, as well as a wide variety of mobile and computer forensic tools. As such, all of the agency's investors must undergo rigorous training to be able to use these tools and analyze the information gained from them.
The digital tools used by McCann's Houston investigators enable them to find unknown emails, bank accounts, social media accounts and other digital trails of information that the target of the investigation may have carelessly left behind.
"Our investigators are committed to producing results in every fraud case they take on," said Weiss. "Our technology and our training processes ensure that we can provide high-quality service to everyone who works with us."
For more information about the services provided by McCann Investigations in the Houston area, visit the company's website at http://www.mccanninvestigations.com and follow the company on Twitter at @mccangi.
About McCann Investigations
McCann Investigations is a Texas-based private investigations practice focused on comprehensive investigations incorporating digital forensics, surveillance, undercover work and background checks for clients in various case types. Service areas include intellectual property theft, non-compete enforcement, fraud, embezzlement and family law. McCann Investigators are experts in the latest computer forensics tools and are licensed with the state of Texas. McCann examiners have provided expert testimony and reporting in hundreds of cases across the state.