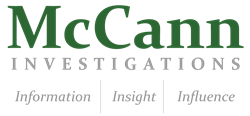 No one should have to suffer due to intellectual property theft.
Houston, TX (PRWEB) February 26, 2014
McCann Investigations, a digital security and private investigations firm based in Texas, announced that it provides investigation services in intellectual property cases powered by its wide variety of high-tech tools and methods.
Intellectual property refers to any type of content to which a person can claim ownership, including writing, music, trademarks, copyrights, ideas and more. The theft of intellectual property is a serious crime that can do a great deal of damage to businesses or individuals, and McCann's private investigators in Houston work to find evidence of this crime to ensure that the perpetrator is found.
"No one should have to suffer due to intellectual property theft," said Daniel Weiss, Managing Partner at McCann Investigations. "Every one of our investigators has access to the latest technologies and investigation methods to give them an edge in their research. Our top priority is a swift resolution to your case to help you move forward."
The agency has numerous technologies that are used in intellectual property theft cases. These include remote viewing and covert surveillance tools, forensic analysis devices for computers and mobile devices and much more. McCann's Houston investigators also supplement these technologies with traditional surveillance tactics, which ensures that every investigation takes advantage of all of the tools and methods available.
"Our investigators are true professionals who are dedicated to their work," said Weiss. "We are pleased to be able to provide these excellent services to our clients in the Houston area, and encourage any victims of intellectual property theft to be proactive in solving the crime."
For more information about the services provided by McCann Investigations in the Houston area, visit the company's website at http://www.mccanninvestigations.com and follow the company on Twitter at @mccangi.
About McCann Investigations
McCann Investigations is a Texas-based private investigations practice focused on comprehensive investigations incorporating digital forensics, surveillance, undercover work and background checks for clients in various case types. Service areas include intellectual property theft, non-compete enforcement, fraud, embezzlement and family law. McCann Investigators are experts in the latest computer forensics tools and are licensed with the state of Texas. McCann examiners have provided expert testimony and reporting in hundreds of cases across the state.