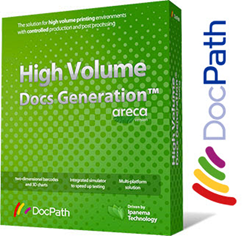 ...but also allows the customer to generate documents in any output format, electronic as well as print.
Suwanee, GA (PRWEB) August 01, 2014
DocPath maintains its presence in the technological field in Latin America, through the participation of the biggest graphic event in that Continent, along with its technological partner Ricoh.
ExpoPrint Latin America is a Fair held every four years, where the latest technology advances are shown in the document previous to print, printing and generation software.
DocPath, through it cooperating partner Ricoh, has introduced its High Volume Docs Generation optimized solution Areca version, a software which allows high volume document generation, printing and distribution.
Print large volumes of documents
Printing, in many cases, is a fundamental part of an enterprise, since it can be a determining factor in cost savings and safeguarding an organizations corporate image. In these cases the companies look for document printing solutions which allow them to perform tasks in a quick and simplified manner, as well as providing an easy distribution of all the documents to the different types of customers automatically and at reasonable speed.
Also post-processing
The companies are not only facing the challenge of obtaining document batch printing in a quick and well organized manner, but as a complement to this task, also faces the need to perform, after printing, the classification of jobs per sets or envelope marking, technically called Post-processing.
"A document management solution capable of automatically performing post-processing tasks is indispensable. DocPath not only offers a software with these features, but also allows the customer to generate documents in any output format, electronic as well as print" notes Julio Olivares, DocPath CEO.
About DocPath
DocPath is a leading document technology software manufacturer. Created in 1992, its solutions are found in companies all over the world. Among its international clients, are prestigious banks and first-class corporations, which are aided by DocPath solutions by simplifying the complicated and critical task involving design and the distribution of documents. DocPath maintains a strong commitment to R&D&i, an area that receives a good amount of its revenue, and in which lies the key to the company´s success.
For more information, visit: http://www.docpath.com.
DocPath is a registered trademark of DocPath Corp. All rights reserved. Other trademarks may be the property of their respective owners.