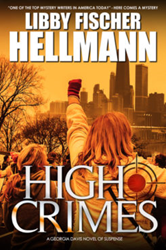 CHICAGO (PRWEB) November 13, 2018
The results of the 2016 presidential election stunned America. Immediately, citizens who opposed the new administration began voicing their displeasure through marches, protests, and organizing the Resistance.
Award-winning thriller author Libby Fischer Hellmann was among those Americans shocked and depressed. She soon joined a Facebook group that discussed the potential collusion between Russia and Trump. The idea for her next thriller was eventually born: what happens if a resistance group is infiltrated by enemies hiding in plain sight? How do you solve a murder when there are 42,000 suspects?
In HIGH CRIMES (The Red Herrings Press; November 13, 2018), Chicago PI Georgia Davis is hired to hunt down those ultimately responsible for the assassination of Resistance leader Dena Baldwin at a demonstration fourteen months after the 2016 election. The gunman, on a hotel rooftop near Grant Park, dies within minutes of the shooting.
As Georgia sifts through Dena's 42,000 Facebook followers, she discovers that unknown enemies hiding behind fake profiles have infiltrated the group. She finds others who will do whatever it takes—including murder—to shield right-wing, wealthy elites.
ABOUT THE AUTHOR
Libby Fischer Hellmann left a career in broadcast news in Washington, DC and moved to Chicago over 35 years ago, where she, naturally, began to write gritty crime fiction. Fifteen novels and twenty-five short stories later, she claims they'll take her out of the Windy City feet first.
She has been nominated for many awards in the mystery and crime writing community and has even won a few. She has been a finalist twice for the Anthony and three times for Foreword Magazine's Book of the Year. She has also been nominated for the Agatha, the Shamus, the Daphne, and has won the IPPY and the Readers Choice Award multiple times. Libby hosts both a TV interview show and conducts writing workshops at libraries and other venues. She was the national president of Sisters In Crime, a 3500-member organization dedicated to the advancement of female crime fiction authors. Her books have been translated into Spanish, German, Italian, and Chinese. All her books are available in print, e-book, and audiobook formats. More information can be found online at libbyhellmann.com.
PRAISE FOR HIGH CRIMES
"HIGH CRIMES is the P.I. novel for our moment, not just because of its backdrop of political tension, but because of the resilient strength of its characters. Georgia Davis is a terrific lead, and Libby Fischer Hellmann calls on her own journalism background to add layers of realism to this all-too plausible plot." -Michael Koryta, NYT bestselling author of HOW IT HAPPENED
"In this ripped from the headlines and rocket-paced thriller, Libby Fischer Hellmann is at the top of her game. You won't stop turning the pages, gripped by every twist and turn. And the tough, smart Georgia Davis is sure to take her place among the top female PIs in crime fiction." -Lisa Unger, New York Times bestselling author of UNDER MY SKIN
"Entertaining...[Georgia is] a shrewd investigator... for readers who watch the nightly news with dismay, the novel offers a satisfying alternate reality." -Publishers Weekly
HIGH CRIMES
By Libby Fischer Hellmann
The Red Herrings Press
Trade Paperback ISBN: 978-1-938733-95-6; $16.99
Ebook ISBN: 978-1-938733-52-9 $5.99
Audio ISBN: 978-1-938733-53-6 (Various)
Available through Ingram, Createspace, and more
FICTION/Thriller 6" x 9"
340 pages
For more information or to arrange an interview, contact Wiley Saichek of Saichek Publicity at SaichekPublicity@gmail.com or 646-896-9960.