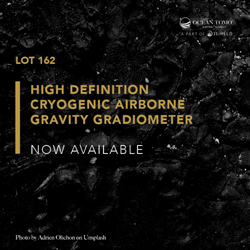 Technology to accurately measure changes in the earth's gravitation field from an airborne platform.
CHICAGO (PRWEB) October 19, 2022
Ocean Tomo Transactions announces the auction of High-Definition Cryogenic Airborne Gravity Gradiometer Patents, available as lot 162, on the Ocean Tomo Bid-Ask™ Market.
The patent auction, lot 162, offers a portfolio of 21 domestic and international patents from Gedex Systems Inc., which protects the technology to accurately measure changes in the earth's gravitation field from an airborne platform.
The patent auction includes:

Gravity gradiometer
Gravity gradiometer with torsion flexure pivots
Gravity gradiometer and methods for measuring gravity gradients
Method for oil sand exploration and development
Quadrupole responder for OGR-type gravity gradiometer
Cryogenic coil assembly and method of manufacturing same
Dual squid measurement device
Method of manufacturing a cryogenic coil assembly
Single axis rotational gas bearing with feed-through
The subject technology enables the discovery of mineral deposits hidden beneath overburden and which were undetectable by other technologies. This portfolio promises to unlock mineral discoveries previously invisible to current systems – giving the holder of the portfolio unique insights into new potential mining locations, driving economic growth through the creation of new quarry teams. The technology also provides benefit with regards to minimizing the environmental impact of mining through mitigating excessive exploration.
The portfolio provides an attractive opportunity for manufacturers and solution providers in the mining and fossil fuel exploration, geophysical monitoring, and earthquake measurement fields to create an efficient solution for their customers.
To request bidder credentials or to receive further information on this portfolio available on the Ocean Tomo Bid-Ask™ Market, contact Layna Guo at lguo@oceantomo.com or +1 312 327 8179.
About Ocean Tomo, a part of J.S. Held.
Established in 2003, Ocean Tomo provides Financial Expert, Management Consulting, and Advisory services related to intellectual property (IP) and other intangible assets; corporate accounting investigations; regulatory and reporting obligations; solvency and restructuring; and contractual or competition disputes.
Practice offerings address economic damage calculations and testimony; accounting investigations and financial forensics; technology and intangible asset valuation; strategy and risk management consulting; mergers and acquisitions; debt and equity private placement; and IP brokerage. Subsidiaries of Ocean Tomo include Ocean Tomo Investments Group, LLC, a registered broker-dealer.
Ocean Tomo is a part of J.S. Held. With more than 100 offices globally, J.S. Held is a global consultancy providing technical, scientific, and financial expertise across all assets and value at risk. Our professionals serve as trusted advisors to organizations facing high-stakes events demanding urgent attention, staunch integrity, clear-cut analysis, and an understanding of both tangible and intangible assets. The firm provides a comprehensive suite of products, data, and services that enable clients across industries to navigate complex, contentious, and often catastrophic situations.