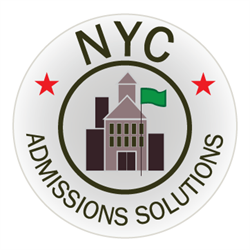 Students are no less qualified than before they took the tests.
New York, New York (PRWEB) August 27, 2013
As New York City released the results of the new 2013 Common Core standardized tests to families yesterday, middle school parents expressed panic that lower scores would limit access to the city's top high schools. NYC Admissions Solutions responded, arguing that these scores are not likely to affect September 2014 high school admission.
"Students are no less qualified than before they took the tests," said Maurice Frumkin, Founder and President of NYC Admissions Solutions. "Principals know that and still need to fill their seats with the most qualified students from their applicant pools."
Many of the top high schools across the city use test scores as a criterion for admission. Since the new, more difficult tests were introduced this year, families have asked what impact this would have on high school admission. One Manhattan middle school parent said, "Families are freaking out about these new tests and how lower scores will affect us."
NYC Admissions Solutions looked at a variety of factors (details can be found at http://www.nycadmissionssolutions.com/testimpact). According to Mr. Frumkin, middle school families should approach their high school decisions and application no differently because of the new testing. "Nothing should change in your approach. Pay attention to test score targets set by the school, but don't eliminate choices because of the new scores."
Each year, about 80,000 middle school students apply to over 400 NYC high schools as part of the extensive citywide high school admissions process. Students select up to 12 school programs on their application from among over 700 throughout the city. Students are then matched to one program on the basis of a wide variety of factors.
A 2009 study issued by the Center for New York City Affairs at the New School confirmed that most parents are overwhelmed by New York City high school admissions, the largest choice process of its kind in the nation. The study called for more advocacy and support for students within their communities. While recommending that families avoid changes in strategy due to the new test scores, NYC Admissions Solutions supports the findings of the 2009 study, including getting help from well-informed sources.
About NYC Admissions Solutions (http://www.nycadmissionssolutions.com)
NYC Admissions Solutions' sole focus is to support families navigating the high school admissions process. Its Founder and President, Maurice Frumkin, is a former official with the New York City Department of Education. The mission of NYC Admissions Solutions is to be the most respected and trusted independent resource for NYC high school admissions by providing personalized, affordable and accurate expertise to middle school families.
For more information about this topic or to schedule an interview, please contact us:
Maurice Frumkin
Phone: (347) 709-2258
Email: Info(at)nycadmissionssolutions(dot)com
http://www.nycadmissionssolutions.com
###