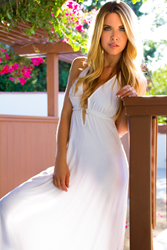 Los Angeles, CA (PRWEB) April 08, 2016
Summer is right around the corner with the promise of warm weather, sunny days and plenty of outdoor activities to keep you busy all season long. Nicole Andrews Collection is making it easy to get ready for the new season with a selection of jumpsuits. These jumpsuits offer the same sleek styling that fans have come to expect from Nicole Andrews Collection but with the playful vibe of a jumpsuit. It is the perfect addition to this collection, which has become known for its wide selection of maxi dresses.
The Forever jumpsuit in black can have you ready to take on the world. It has a strapless top and flowing look, and it is easy to pull on and off. It can be worn day or night just like tee shirt dresses and accessorized with wraps, clutches and handmade tassels to create one-of-a-kind looks. Use subdued colors to keep the look laid-back, or add bright pops of color for a more standout look. This jumpsuit is perfect for any occasion.
The tiger print jumpsuit lets you take a walk on the wild side with its wide legs, strapless top and nipped-in tasseled waist. The flowing look can add a little spice to anyone's closet and can work well for day or night. It is available in sizes extra small, small, medium and large. High low dresses are also available in animal prints.
About Nicole Andrews Collection
The beachy vibe of Southern California blends seamlessly with the glamour of Hollywood to create Nicole Andrews Collection. From wrap dresses that hug curves to party-ready minis and print maxi dresses, these designs have been made to fit and flatter. The brand is sexy, chic and comfortable with travel-friendly features such as built-in bras. High-quality fabrics drape over curves and create sexy silhouettes while ruching details add visual interest.
The line is designed by actress Nicole Andrews, whose vision and love of fashion shines through in every piece. The line is based and produced in Los Angeles and includes not just wrap, tee shirt and tank dresses but also one-of-a-kind custom bracelets, tassels and other jewelry.