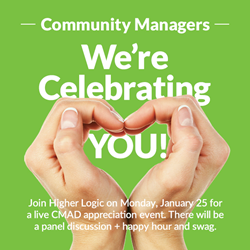 The community management industry has grown exponentially in recent years
Washington, D.C. (PRWEB) January 22, 2016
Higher Logic, the leading cloud-based, online community platform provider, will sponsor annual awards for Community Manager Appreciation Day (CMAD). My Community Manager organizes and presents the awards each January in recognition of community managers' accomplishments and the industry as a whole.
Along with sponsoring the CMAD awards, Higher Logic will also host a live event on Thursday, January 28, at its new office in Arlington, VA.
"This is one of our favorite events of the year for community management," says Andy Steggles, president and chief customer officer at Higher Logic. "The community management industry has grown exponentially in recent years, thanks to innovative content and meet-ups from groups like My Community Manager. Higher Logic is proud to be an awards sponsor and get the chance to bring community managers together to celebrate and collaborate."
The event is open to all community managers able to attend in the Washington, D.C. area, and it will include an informal happy hour. Find more details and register here.
About Higher Logic
Higher Logic is an industry leader in cloud-based community platforms, with over 25 million engaged members in more than 200,000 communities. Organizations worldwide use Higher Logic to bring like-minded people all together, by giving their community a home where they can meet, share ideas, answer questions and stay connected. Read more at http://www.higherlogic.com.
About My Community Manager
My Community Manager is the community built by, for, and managed by community managers.
Join every Friday at 2pm EST for #CMGRHangout and be sure to let them know how you'd like to participate at http://mycmgr.com/participate.