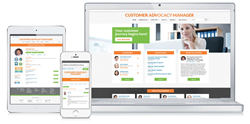 Our Customer Advocacy Manager helps any company easily identify and promote their most loyal customers"
Washington, D.C. (PRWEB) April 04, 2016
Higher Logic today announced the release of Higher Logic Customer Advocacy Manager, an engagement platform that makes it easy to find, track and reward a company's most passionate and vocal customers and transform them into brand evangelists. The platform encourages participation at all levels, streamlines engagement and feedback, and tracks engagement using a point system. Higher Logic will demonstrate Logic Customer Advocacy Manager at Microsoft Envision, Booth #761, April 4 – 6, 2016.
"An online community is ideal for a customer advocacy platform because of the ability to engage customers at every level of their journey," said Higher Logic CEO Rob Wenger. "Our Customer Advocacy Manager helps any company easily identify and promote their most loyal customers, and then turn them into brand advocates. It's these brand advocates that will often turn out to be the most powerful evangelists for your company."
The ideal customer journey starts with initial questions and product feedback, working all the way up to advocacy outreach and leadership participation. Higher Logic Customer Advocacy Manager streamlines this entire journey, encouraging engagement with better rewards and recognition programs, automating advocacy and outreach processes, and effectively tracking and reporting online and offline engagement with a detailed points system.
Customers who engage with a company through a trustworthy, easily accessible customer community are more likely to advocate for product enhancements and the brand in general, which is why Customer Advocacy Manager is designed to promote transparency and inclusiveness, encouraging customers to participate and ensuring the results reflect the views of the broader customer base.
Key Capabilities

Automate customer management. Easily create and fill advocacy opportunities that fit every customer's skills, interests and location. Eliminate manual solicitation, selection and tracking, saving staff time and yielding better results.
Personalize advocacy efforts. Configure every opportunity to exact specifications, and post openings in a searchable, online database. Give customers easy access to profiles and provide automatic notification of opportunities fitting their interests.
Reward and recognize. Encourage participation and feedback with gamification, including virtual badges, ribbons, and a customer leaderboard. Reward customers using traditional practices, such as thank-you letters and physical gifts.
Track engagement. Measure advocacy efforts at any level with a time and experience-based point system. Track individual programs and opportunities using points throughout the year, and compile overall engagement points for a comprehensive view of your program's activities.
Visit Higher Logic at Microsoft Envision, Booth #761, April 4 - 6, at the Ernest N. Morial Convention Center in New Orleans.
About Higher Logic
Higher Logic is an industry leader in cloud-based community platforms, with over 25 million engaged members in more than 200,000 communities. Organizations worldwide use Higher Logic to bring like-minded people all together by giving their community a home where they can meet, share ideas, answer questions and stay connected. Learn more at http://www.higherlogic.com.
Media Contact
Amanda Orr
Kickstart Consulting for Higher Logic
Phone:  202-248-6766