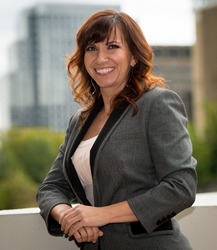 Heather has been instrumental in defining and refining Higher Logic's engagement strategies
Washington, D.C. (PRWEB) November 23, 2015
Higher Logic, a leader in cloud-based, online community platforms, announced Heather McNair as its newest addition to the executive team, joining as Vice President of Engagement Strategy.
"This new role reflects the importance we place on effective engagement strategies as it directly relates to the member and customer experience," says Andy Steggles, president and chief customer officer at Higher Logic. "Heather's previous experience in support and implementation make her uniquely qualified to focus on more strategic engagement initiatives."
Previously, Heather served as Director of Client Support at Higher Logic and spent five years as a client, giving her extensive experience with client services, launching and maintaining successful community sites. She has been developing marketing, technology and web strategies for the nonprofit, publishing and event industries for more than 15 years, and has also worked in the association field since 2005.
"Heather has been instrumental in defining and refining Higher Logic's engagement strategies and best practice recommendations for both clients and the industry at large," says Rob Wenger, CEO at Higher Logic. "We're excited to have Heather join the executive team, as well as expand her engagement scope to include more client visits, speaking opportunities and publishing."
About Higher Logic
Higher Logic is an industry leader in cloud-based community platforms, with over 25 million engaged members in more than 200,000 communities. Organizations worldwide use Higher Logic to bring like-minded people all together, by giving their community a home where they can meet, share ideas, answer questions and stay connected. Learn more at http://www.higherlogic.com.