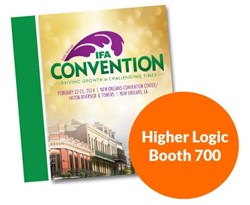 "It's an honor to not only be setting up space in the exhibit hall where attendees can experience Connected Community first-hand, but to also be sharing insight during my presentation on changes and innovations in the franchise work environment."
Washington, DC (PRWEB) February 18, 2014
Higher Logic, the leading industry provider of private community software for organizations worldwide, will be exhibiting at this month's International Franchise Association (IFA) Annual Convention, taking place February 22 through 25 in New Orleans, LA.
"Higher Logic's excited to attend this important industry event that brings together world-class speakers, experts and companies in franchising, fostering dynamic education and meaningful networking opportunities," said Rob Wenger, CEO of Higher Logic. "It's an honor to not only be setting up space in the exhibit hall where attendees can experience Connected Community first-hand, but to also be sharing insight during my presentation on changes and innovations in the franchise work environment."
Attendees can find Higher Logic on the tradeshow floor in Booth #700. Higher Logic's team will provide hands-on demonstrations of its Connected Community platform and Higher Logic mobile apps as well as be available to answer individual questions. Last year, Higher Logic teamed up with IFA to launch FranSocial, IFA's private social network to their 15,000+ members. Higher Logic will be showcasing the power of FranSocial in conjunction with sponsorship of a professional headshot lounge. Attendees can find The FranSocial Headshot Lounge located in the IFA Networking Hub on Sunday, February 23 from 4:30 PM - 8:00 PM and Monday, February 24 from 12:00 PM - 2:30 PM and 5:00 PM - 7:00 PM. Attendees can sign up to receive a new headshot and Higher Logic will be available to assist attendees with FranSocial profile page updates.
Connected Community is designed to help franchisors build and empower their franchisees through a community platform to:

Increase revenue.
Reduce training costs.
Attract new franchisees.
Innovate and solve problems.
In addition, Wenger will be part of an education session entitled: "The Evolution of Change in the Franchise Workplace" at the conference on Sunday, February 23 from 2:45 pm – 4:15 pm. In this session, attendees will learn how franchisors and franchisees are socializing and combining their business systems and traditional intranets to transform their business. Rob's co-presenters include: Doug Rogers, President, Mr. Appliance and Ash Mathew, Franchise Communications, Domino's Pizza.
Wenger and Kyle Roberts will receive their Certified Franchise Executive™ (CFE) designation from The Institute of Certified Franchise Executives after completing course requirements. Wenger and Roberts earned 2,500 education credits and passed the CFE Final Exam in 2013.
ABOUT THE 2014 IFA ANNUAL CONVENTION
The 2014 IFA Annual Convention is the premier event in Franchising and will be held February 22 through 25, 2014 in New Orleans, LA. Gain insight from prominent keynote speakers, expand knowledge at in-depth educational sessions and panels, network with other successful people in the industry and explore the latest products and services in an exhibit hall of nearly 300 companies. Learn more.
ABOUT FRANSOCIAL, POWERED BY HIGHER LOGIC
FranSocial is the IFA member-only online community that debuted during the association's 53rd Annual Convention in Las Vegas. It is a private, secure community for IFA members to connect, share ideas and get fast answers to important questions. FranSocial is now the best place for IFA members to pose questions to industry experts, share documents, blogs, and videos, and participate in discussions with franchise professionals with common interests. Check out FranSocial.
ABOUT HIGHER LOGIC
Higher Logic provides innovative professional social media and mobile applications for organizations worldwide that are seeking to create conversation, share knowledge and build community. Our premier offering, Connected Community, which is currently used by more than 100,000 online communities with over 18 million engaged users, empowers organizations to share best practices and collaborate—anytime, anywhere. Schedule a Connected Community demo or learn more about how Higher Logic can help your organization.