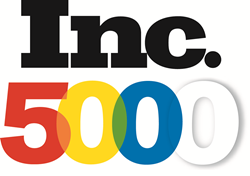 Our sustaining growth over the years keeps us on the list, and proves that Higher Logic is doing something right.
Washington, D.C. (PRWEB) September 05, 2014
Higher Logic, the leading industry provider of cloud-based community platforms, has ranked as a top Washington, D.C. company in the annual Inc. 500/5000, an exclusive ranking of the nation's fastest-growing private companies. As a multi-year honoree, Higher Logic's overall ranking is 2,374 and has been featured on the list for three consecutive years. Higher Logic was also named one of the 50 "Great Places to Work" in the Washington, D.C. area earlier this year, by The Washingtonian magazine.
Higher Logic's 2010 revenue was reported at $2.9 million; that number jumped to $7.6 million by 2013, representing an impressive 163 percent three-year growth rate. In addition to the company's impressive growth in revenues, Higher Logic's employee base has doubled over the course of three years, with 59 employees now working at Higher Logic's new Arlington, Va., headquarters.
"We are excited and honored to be included in Inc.'s latest rankings for the third consecutive year," said Rob Wenger, Chief Executive Officer of Higher Logic. "Our sustaining growth over the years keeps us on the list, and proves that Higher Logic is doing something right. At the start of 2014 we had 43 employees, and we have since greatly surpassed that in this calendar year. From servicing our clients to fulfilling a real need in today's business environment and hiring great people, the Inc. 500|5000 serves as a reminder – as well as motivation – that we must continue to innovate in the online community platform space."
About Higher Logic
Higher Logic's Connected Community is the industry-leading, cloud-based community platform, with over 20 million engaged members in more than 100,000 communities. Organizations worldwide use Connected Community to bring like-minded people together in secure communities designed to ignite knowledge sharing, drive content creation, solve problems and improve performance. For more information, visit http://www.higherlogic.com.
ABOUT THE 2014 INC. 500|5000
The 2014 Inc. 5000 is ranked according to percentage revenue growth when comparing 2010 to 2013. To qualify, companies must have been founded and generating revenue by March 31, 2010. They had to be U.S.-based, privately held, for profit, and independent—not subsidiaries or divisions of other companies—as of December 31, 2013. (Since then, a number of companies on the list have gone public or been acquired.) The minimum revenue required for 2010 is $100,000; the minimum for 2013 is $2 million. As always, Inc. reserves the right to decline applicants for subjective reasons. Companies on the Inc. 500 are featured in Inc.'s September issue. They represent the top tier of the Inc. 5000, which can be found at http://www.inc.com/5000.