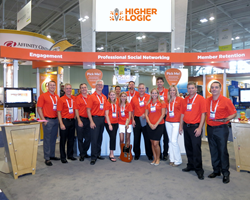 Higher Logic will join other marketing executives for a fast-paced presentation
Washington, D.C. (PRWEB) August 31, 2015
Higher Logic, a leader in cloud-based community platforms, is participating in this year's Integrated Marketing Summit (IMS) in Minneapolis, MN on September 1-2.
Chief Marketing Officer Hunter Montgomery has been invited to participate in a panel discussion on content marketing best practices. He will join executives from Dell, Clearlink and V3 Broadsuite for a fast-paced presentation on the current state of content marketing.
Hunter will focus on how to leverage online communities for better marketing performance, customer feedback and user-generated content. The presentation also includes case studies on three organizations already addressing these trends with their own customer communities.
The IMS is in the midst of its Road Tour and will be in five cities during 2015, featuring hands-on workshops, keynote presentations, breakout sessions and networking events. For complete event details and a schedule of events, please visit Integrated Marketing Summit's event page.
About Higher Logic
Higher Logic is an industry leader in cloud-based community platforms, with over 25 million engaged members in more than 200,000 communities. Organizations worldwide use Higher Logic to bring like-minded people all together, by giving their community a home where they can meet, share ideas, answer questions and stay energized. Learn more at http://www.higherlogic.com.
About Integrated Marketing Summit
IMS is the signature summit for marketing and advertising professionals in both B2Band B2C markets throughout the U.S. IMS provides actionable insights, expertise and cutting-edge information in a convenient, affordable one-day educational format. The organization's mission is to help marketing and advertising professionals drive revenue rapidly. Learn more at http://www.integratedmarketingsummit.com/.