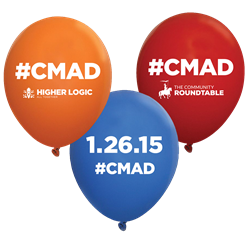 Both companies have teamed up to co-sponsor community events in six cities across the country
Washington, D.C. (PRWEB) January 20, 2015
Higher Logic, an industry leader in cloud-based community platforms, has partnered with The Community Roundtable to celebrate the integral role of community management for the entire month of January. Based on the belief that success of any community depends on the vital role of a community manager, they are spending January celebrating and featuring Community Managers with 26 days of content and advice.
Higher Logic has built an interactive timeline providing resources and introductions to innovative community managers and experts. Users can click on one day or look through the whole month. Some days are interactive, others a quick read. All are purposely planned to take 15 minutes to digest.
This month-long celebration will culminate in a nation-wide celebration for Community Manager Appreciation Day (CMAD), on Monday, January 26. Both companies have teamed up to co-sponsor events in six cities across the country, from Lunch & Learns to Google+ Hangouts and networking Happy Hours. Those interested in attending events in one of the six cities can register here.
The events will feature the release of the first element of new research from The Community Roundtable and sponsored by Higher Logic, The Community Manager Handbook: 20 Lessons from Community Superheroes, including research highlights and case profiles from some of today's most successful community professionals. The handbook's full release coincides with a webinar to be hosted by Higher Logic on Wednesday, February 4 at 2pm ET. For more information and to register, visit the webinar's registration page.
About Higher Logic
Higher Logic is an industry leader in cloud-based community platforms, with over 25 million engaged members in more than 200,000 communities. Organizations worldwide use Higher Logic to bring like-minded people all together, by giving their community a home where they can meet, share ideas, answer questions and stay energized.
Higher Logic aims to empower relationship building and foster community evolution, which we believe are the fundamental elements to the long-term relevance of any organization. There's no denying the power of community—by fostering its growth, you can open up a world of possibility. Tap into the power your community can generate for you. Learn more at http://www.higherlogic.com.
About The Community Roundtable
The Community Roundtable was established in 2009 as a professional development network for community, social media and social business professionals, providing an extensive array of training, tools, research and advisory services to members and enterprise customers both in and outside of the U.S. The CR Network gives members access to exclusive connections, events, training and resources, as well as immediate support from TheCR and peers from over 100 organizations in community and social business roles. TheCR's Community Maturity Model has been adopted by customers worldwide as a framework to start, build and grow communities, and the annual State of Community Management provides in-depth analysis of the growth and maturation of community management.
Clients come from 100+ organizations, including SAP, Aetna, IEEE, H&R Block, Walgreens and CA Technologies. To learn more about TheCR Network, advisory services, tools and research, visit http://www.communityroundtable.com or follow on Twitter at @TheCR.