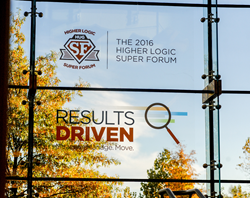 Along with record attendance, Higher Logic CEO Rob Wenger announced several product enhancements and debuted the brand new Higher Logic Academy
Washington, D.C. (PRWEB) November 22, 2016
Higher Logic, the leader in online community platforms, announced today that its 2016 Super Forum event garnered record attendance, with over 450 community managers, thought leaders, and enthusiasts for two days of learning and collaboration.
The seventh annual Higher Logic Super Forum saw a 40 percent increase in attendance compared to 2015. The event featured 39 breakout sessions and four keynotes, including an original Community Expert Panel with four community thought leaders: Vanessa DiMauro, Rachel Happe, Richard Millington, and David Spinks. This was the first time these community leaders had ever shared a stage together.
Along with record attendance, Higher Logic CEO Rob Wenger announced several product enhancements and debuted the brand new Higher Logic Academy, a free, comprehensive customer resource that includes education, training, online courses, webinars, and live events. All programs are accessed through the new Higher Logic Academy portal. Learn more about Higher Logic Academy resources at https://academy.higherlogic.com/home.
The Super Forum also honored its 2016 Community Awards winners. The annual awards highlight and celebrate clients that have achieved significant results through the implementation and use of Higher Logic products.
"The awards are our favorite part of Super Forum, because we get to recognize the excellent work our clients and partners are doing," said Andy Steggles, President and Co-Founder of Higher Logic. "Each year, new levels of innovation, dedication, teamwork, and creativity make the competition tighter and our job of selecting the winners even more challenging."
Congratulations to all of our 2016 Community Awards winners:
Most Successful Launch 2016
Credit Union National Association
American Society of Nephrology
National Association of Consumer Advocates
Best WWW Design 2016
Air Conditioning Contractors of America
Construction Specifications Institute
ReproMAX
Most Successful Community
Master Brewers Association of the Americas
Regulatory Affairs Professionals Society
New York State Bar Association
For more information on the Higher Logic Super Forum, visit the event site.
About Higher Logic
Higher Logic is an industry leader in cloud-based community platforms. Organizations worldwide use Higher Logic to bring people all together, by giving their community a home where they can interact, share ideas, answer questions and stay connected. Learn more at http://www.higherlogic.com.