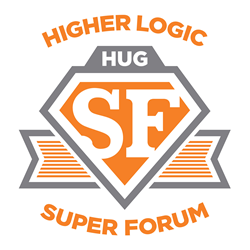 These communities exemplify collaborative, interactive and beautiful user experiences
Washington, D.C. (PRWEB) October 23, 2015
Higher Logic, a leading cloud-based, community platform provider, announced its annual community award winners at this year's Super Forum. The Community of the Year award winners were honored during Higher Logic's comprehensive two-day event for community enthusiasts to listen, learn and collaborate.
Criteria for all award categories includes effective and user-friendly site elements, use of responsive design, customization for page layouts and navigation, and overall community member engagement.
"It's been a phenomenal year of high-performing engagement, innovation and community site redesigns," says Andy Steggles, president and chief customer officer at Higher Logic. "These communities exemplify collaborative, interactive and beautiful user experiences. We are excited to showcase our clients' hard work and dedication to creating the best possible community environments for their members."
Congratulations to all of our 2015 Community of the Year winners:
Most Successful Launch
SAE International: connection.sae.org
American Academy of Physician Assistants: huddle.aapa.org
American Society of Radiologic Technologists: community.asrt.org
Best Website Design
Commercial Finance Association: community.cfa.com
American Public Gas Association: http://www.apga.org
The University of Florida Alumni Association: connect.ufalumni.ufl.edu
Best Community Sites
NAFSA: The Association of International Educators: network.nafsa.org
Coin Laundry Association: coinlaundry.org
HTG Peer Groups: hub.htgpeergroups.com
For more information on Higher Logic's Super Forum and its annual award winners, visit the event site: https://hug.higherlogic.com/sf/home.
About Higher Logic
Higher Logic is an industry leader in cloud-based community platforms, with over 25 million engaged members in more than 200,000 communities. Organizations worldwide use Higher Logic to bring like-minded people all together, by giving their community a home where they can meet, share ideas, answer questions and stay connected.