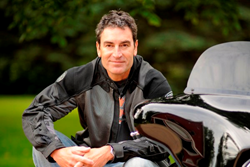 It's exactly [Ken's] focus on customer experience and emotional connections that we strive for as a community builder.
Washington, D.C. (PRWEB) June 20, 2016
Higher Logic, the leading cloud-based, online community platform provider, has announced Ken Schmidt as its keynote speaker for the seventh annual Super Forum, a comprehensive two-day event for community enthusiasts to collaborate and focus on results-driven community success. The event will be November 14-15, and located at the Renaissance just outside of the nation's capital in Arlington, VA.
Ken was the highly lauded director of corporate and financial communications at Harley Davidson, serving as spokesperson to the media and frequent speaker on non-traditional communications, customer experience and brand-building. He is also an avid motorcycle enthusiast. Ken helped the Harley Davidson Motor Company with one of the most well-respected turnarounds in corporate history, before moving on to the Chicago-based marketing firm, VSA Partners.
"Ken Schmidt helped to create an impressive brand and loyal community base with Harley Davidson," says Rob Wenger, CEO at Higher Logic. "It's exactly this focus on customer experience and emotional connections that we strive for as a community builder. We look forward to hosting Ken at this year's Super Forum and learning from his experiences creating a top-notch brand and customer community."
Learn more about Ken's career and speaking opportunities on his website.
The Higher Logic Super Forum offers community training, educational tracks and social events for community enthusiasts, thought leaders, partners and Higher Logic clients. It features over 15 hours of educational programming, with tracks covering community management, basic and advanced platform management, engagement and marketing, and additional resources and solutions.
Registration and event details for the 2016 Super Forum is available on the event's website.
As an educational program related to the CAE examination content outline, full participation in the 2015 Higher Logic Super Forum is eligible for 12 CAE credits. For more information about the CAE credential or Approved Provider program, please visit http://www.whatiscae.org.
About Higher Logic
Higher Logic is an industry leader in cloud-based community platforms, with over 25 million engaged members in more than 200,000 communities. Organizations worldwide use Higher Logic to bring like-minded people all together, by giving their community a home where they can meet, share ideas, answer questions and stay connected.