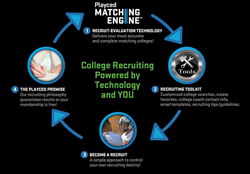 Dallas, TX (PRWEB) December 08, 2015
The recruiting progress information for athletes who have used their coach's code is organized and displayed in the Playced Coach's Dashboard. Built to help High School coaches efficiently help their players through the college selection and recruiting process, Playced defines realistic college options that fit the athlete academically and athletically then provides them with contact information, a recruiting gameplan, and 24/7 support.
The Coach can check the college team roster, use one click email recommendations, track the status of contacts with college programs and see the player's recruiting progress at a glance.
For the details of Playced.com High School Coach's Virtual Recruiting Assistant go to our website; if you have questions there is a 24/7 chat function on the site.