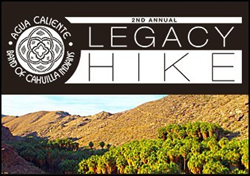 Richard Milanovich is a beloved and iconic figure in this valley.
Palm Springs, CA (PRWEB) September 17, 2015
Brad Schmett, Broker Associate with Luxury Homes by Keller Williams today announced that the Legacy event honoring the late Tribal Chairman Richard M. Milanovich of the Agua Caliente Band of Cahuilla Indians will be a huge spotlight on local homes and real estate thanks to the expected record attendance. The event kicks off at 7am at South Palm Canyon and Acanto Drive with shuttles taking hikers from the parking area in Palm Springs to the several trail heads.
Hikers will be assigned to Trail Guides on a first-come, first-served basis. Proceeds will go to benefit the newly created Richard M. Milanovich Educational Fellowship at the George Washington University in Washington D.C.. Milanovich was born in 1942 in Banning and passed away in 2012 here in his beloved home of Rancho Mirage. He was eulogized by such dignitaries as Governor Jerry Brown, Congresswoman Mary Bono-Mack and Palm Springs Mayor Steve Pougnet and still enjoys a legacy of honor and prestige.
Schmett observed, "Richard Milanovich is a beloved and iconic figure in this valley. He did so many wonderful things during his tenure as Tribal Chairperson, including a trip to the White House and exhibiting a deep concern for those less fortunate who needed support and assistance. He also raised awareness and education for his Cahuilla People who have inhabited this valley for five thousand years. One reason many people choose to make this area their home is because of their own connections to the Cahuilla and other local Native American people. We celebrate a diverse and distinguished history in this desert. It is great to welcome these Humanitarian Hikers this month!"
The event is open to the public and registration begins at 6:30am promptly.
For more information on the Richard M. Milanovich Hike for Human Rights visit https://www.acbci.com/charityhike/.
To find out more about investing in Palm Springs, CA real estate visit BradSchmett.net.
About Luxury Homes by Keller Williams: Luxury Homes by Keller Williams – Palm Springs, is an exclusive, elite and sophisticated group of real estate consultants raising the bar for service in the Palm Springs area residential real estate market.