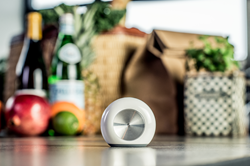 By integrating Walmart Online Grocery and Peapod into the hiku experience, we continue to fulfill our mission of making grocery shopping simple for busy families
San Jose, California (PRWEB) November 04, 2015
Hiku Labs has announced its innovative scanning and voice-enabled shopping button, hiku, is now integrated with major online grocery services, Walmart and Peapod. With hiku, customers can easily scan or speak items to a mobile shopping list, and now purchase those items for delivery or pickup with Walmart Online Grocery or Peapod. The integrations provide a seamless mobile shopping experience for fast and accurate access to more than 45,000 food and household items in over 40 markets across 24 states. The company also announced its 2nd generation hiku device with a limited-time price of $49.
Once scanned or spoken into hiku, lists are intelligently matched to online availability, and can be sent directly to Walmart or Peapod for purchase. Purchased items are then removed from the hiku shopping list so lists are always up-to-date among household members. Walmart Online Grocery and Peapod are the first online grocery services in the U.S. that hiku has integrated into its shopping experience.
"By integrating Walmart Online Grocery and Peapod into the hiku experience, we continue to fulfill our mission of making grocery shopping simple for busy families," said Rob Katcher, CEO of Hiku Labs. "From day one our vision has been that hiku remembers for you and shops for you, and we are excited to bring 'shops for you' functionality to consumers here in the United States."
The hiku device includes a barcode scanner, built in microphone, and b/g/n wireless connectivity built into an attractive one button magnetic housing designed for the kitchen. Key new features of the 2nd generation hiku include instant-on for faster scanning and voice recording; improved audio capture for better voice recognition; and greater resistance to spills so hiku is even more kitchen friendly for the whole family.
The 2nd generation hiku device will debut at $49 now through the holidays, and is available directly at http://www.hiku.us.
"Our online shoppers want fast, easy, and accurate access to the products they need," said Carrie Bienkowski, Peapod's Chief Marketing Officer. "Hiku integrated with Peapod delivers super-simple order entry to create a shopping experience that's easier than ever."
How hiku Works
Anyone in the family can add items to a shared shopping list with hiku. When a product is running low, press a single button to scan barcodes or talk to it, and the item is instantly added to the hiku mobile shopping list app. The shopping list is always available from the cloud and is shareable with others. For example, a spouse or family member can access the same shared shopping list on their mobile phone when at the store.
Visit https://brandfolder.com/hiku for all press assets.
About Hiku Labs, Inc
hiku was created to make grocery shopping simple for busy families. The team behind hiku is passionate about creating products that consumers love. hiku has been recommended in top media like the Today Show, HGTV, Real Simple, and House Beautiful. Founded in 2012, hiku is the leading connected device shopping platform on the planet, with e-commerce partners in the UK, France, Australia, and the U.S. hiku recognizes millions of products, making it the only shopping button you will ever need.
About Peapod
Peapod — an Ahold USA company — is the nation's largest online grocery service. With a full assortment of grocery and household items, including national brands, wallet-friendly organics and own brands, Peapod offers direct delivery or pickup in 24 markets across 13 states including Connecticut, Illinois, Indiana, Maryland, Massachusetts, New Hampshire, New Jersey, New York, Pennsylvania, Rhode Island, Virginia, Washington, D.C. and Wisconsin. Learn more at http://www.peapod.com.