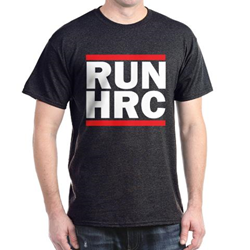 In today's insane world, it's important to have fun and look good while you are doing it.
St. Louis, MO (PRWEB) May 25, 2014
La La Land Shirts, a leader in providing crazy shirts and funny t-shirts, would like to announce the release of several new Hillary Clinton shirts to their already impressive Hillary Clinton line. Covering many serious topics and some fun ones as well, these Hillary Clinton shirts will not be your normal boring political shirts. La La Land Shirts don't like to take themselves too serious; one shirt will say RUN HRC similar to the old Run DMC Shirts. The shirts will be available on La La Land Shirts e-commerce website.
La La Land Shirts has an extensive line of shirts that also include crazy funny shirts, funny shirts, music genre shirts, and party shirts. The company is happy to be expanding their political line and are very happy to be backing Hillary Clinton in 2016.
In today's insane world, it's important to have fun and look good while you are doing it, says a La La Land Shirts spokesperson. Our additions to our Hillary Clinton Line clearly show how you can combine a serious topic, a little fun and fashion at the same time. La La Land Shirts always tries to do this in a professional manner.
One of the Hillary Clinton shirts that is being showcased is a funny phrase that plays on the idea that if Hillary is elected the country will receive a 2 for 1 deal. The shirt says "Hill and Bill 2016".
For more information, visit http://lalalandshirts.com.
About La La Land Shirts:
La La Land Shirts is a company that has been around since 2007 and is committed to making shirts that appeal to a wide range of people. They are principled, trustworthy and continuously strive to improve themselves and their customer experience.
They help their fans wear the craziest shirts possible on the weekends or to their next college party. Since they have been using CafePress to print their shirts they have been able to cut their cost tremendously. La La Land Shirts deep understanding of pop-culture, process and industry standards have helped them develop a rich set of best practices that are able to be leveraged across all industry segments.