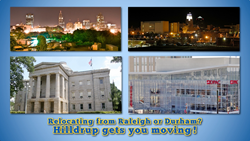 Releigh-Durham, NC (PRWEB) October 27, 2014
Residents of North Carolina continue to use Hilldrup, decade after decade, because Hilldrup continues to provide optimal moving options that are efficient and effective.
A new video was just released showcasing how Hilldrup is reaching out to local markets to notify customers that the same service they provide to Fortune 500 Companies is also available at a competitive price to the residential customers throughout North Carolina.
When it comes to moving, hundreds of little things need to be taken into account to ensure the smooth and successful transportation of your goods and belongings. With Hilldrup's advanced approach to the Raleigh-Durham area and throughout North Carolina, the goal is to make their proven moving practice even better.
Hilldrup will continue to give their customers 24/7 access to dedicated moving resources on top of being provided with a Move Counselor.
Hilldrup uses dedicated move counselors so you get the answers and help you need right away. It doesn't matter if you are moving internationally from North Carolina or coming to the state from another country, your Move Counselor will be easy to contact and will be up to date on your specific move.
The Raleigh-Durham area continues to grow and Hilldrup has been around for the changes for over a century. Originally founded in 1903 as a horse and carriage business, Hilldrup soon was the optimal choice for residents in the South looking for reliable and trustworthy moving services.
Anyone interested in learning more about the Hilldrup difference or to receive a no-obligation estimate from a moving specialist should call: 800-756-0127.
For further information and other services, including corporate accounts, international and residential moving, visit the website at: https://www.hilldrup.com