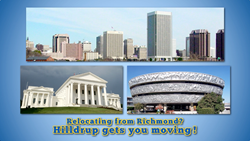 Richmond, VA (PRWEB) October 28, 2014
No matter the time of year, the destination or how many belongings there are—the innovative plan created by Hilldrup will make residential moving that much simpler.
For over 100 years, Hilldrup has been helping Virginia residents transition to the new chapter in their lives. Now, America's premier moving company has expanded their facilities and has an even more comprehensive and customer-focused residential moving plan for anyone moving in or out of Richmond.
A new video shows how Hilldrup is reaching out to local markets to notify customers that the same service provided to Fortune 500 Companies is also available at a competitive price to the residential customers throughout Virginia.
Dedicated Hilldrup specialists will be standing by to answer any questions associated with how one relocates to a different city. The video wants viewers to see, first hand, how efficient and effective moving can be when the right team is hired.
One of the key aspects to Hilldrup's approach is giving customers the ability to directly work with a Move Counselor specifically assigned to their moving task. That way, if customers have comments or concerns and want to deal with the same person that is already up to speed on their moving situation, the Move Counselor serves as that outlet.
People looking to move in or out of Richmond, Virginia, can call Hilldrup now at 800-888-1876 for a no-obligation estimate from a moving professional.
Hilldrup is also equipped to handle international moves as well, so no matter the final destination, Hilldrup is prepared to help.
Further moving information can be found on the Hilldrup website at: https://www.hilldrup.com