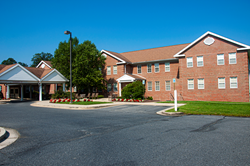 We are honored to achieve the level of quality and distinction in our resident care reflected in the 100% deficiency-free status.
ADELPHI, Md. (PRWEB) August 25, 2020
Hillhaven Assisted Living, Nursing, and Rehabilitation Center (Hillhaven) in Adelphi, MD, is proud to announce that it has earned a deficiency-free survey in August 2020 from a focused infection control inspection as administered by the Maryland Department of Public Health during an unannounced visit.
"We are honored to achieve the level of quality and distinction in our resident care reflected in the 100% deficiency-free status," expressed Maurice McIntyre, Executive Director of Hillhaven. "Our staff works hard in creating an environment that focuses on the resident and we are delighted to be recognized for delivering the quality care we strive for every day."
In order for a senior living community to achieve a deficiency-free survey, all services provided at the facility must meet or exceed all state and federal standards. A deficiency-free survey in Maryland's rigorous inspection is uncommon and a key indicator of excellence for a senior living community.
Senior living communities are inspected periodically to evaluate services and systems in place and oversee compliance with federal and state laws and regulations. In a multi-day process, inspectors arrive unannounced to assess the facility and evaluate compliance with regulations governing areas including policies and procedures, resident care, quality of care and quality of life, medication administration, medical records, kitchen sanitation, staff competencies, dietary needs, equipment, safety, and overall wellness of the community. The skilled nursing community is awarded a "deficiency-free" survey when all of these regulations are met.
At Hillhaven, receiving an excellent state survey is another example that seniors can expect the highest level of care in a superior environment, which is important when selecting a senior living community. Hillhaven does not have any new residents testing positive for COVID-19 and continues to accept new residents.
Located at 3210 Powder Mill Road in Adelphi, MD, Hillhaven, a Meridian Senior Living community, provides assisted living, memory care, rehabilitation, and skilled nursing services. For more information about Hillhaven, please call (301) 304-4232 or visit: hillhavenassistedliving.com.
About Meridian Senior Living:
Meridian Senior Living, a privately held company based in Bethesda, Maryland, owns and operates seniors housing communities across the country and provides operational consulting to 24 communities in China. With more than 75 communities in 21 states and more in development, Meridian is one of the largest seniors housing operators in the U.S. The company prides itself on providing the highest quality care, exceptional lifestyle programming and a distinctive dining experience for its residents. For more information on Meridian Senior Living, visit meridiansenior.com.