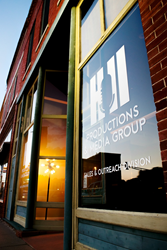 We are deeply impressed at how the local economic development agencies stepped up.
Bloomfield, Iowa (PRWEB) September 21, 2017
Hill Productions and Media Group, Inc. (HPMG) has recently opened a second Bloomfield location due to the company's rapidly expanding Sales & Outreach division. CEO & Founder Justin Hill says, "While we have an office in a major metro area like Nashville we continue to focus on growth in our rural area. It's important to us to offer quality jobs and quality services right here in southeast Iowa."
Davis County leaders came together to keep the expansion within Davis County. Entities like Bloomfield Main Street, Davis County Development Corp, Citizens Mutual, and the City of Bloomfield were all instrumental in making the expansion a smooth one for HPMG. Hill shares more about the decision to open the second location in Bloomfield:
We've gotten calls from other communities in Iowa - even neighboring states - vying for us to expand there, but we were deeply impressed at how the local economic development agencies stepped up to open doors in order to keep us here.
Vice President and co-owner Diana Upton-Hill, a former Main Street director, expands upon the Bloomfield opening: "Being a part of a community (furthermore, its downtown hub) has always been an important focus for me personally, and it's a major part of HPMG's vision as well. I'm so glad that vision is able to be realized in Davis County."
The HPMG team has grown to include twenty employees in just a few short months, and the company is projected to nearly double in size within the next year's time. Vice President of Business Development "Rowdie" Mitch Goudy shares, "It's exciting that we are able to provide a company culture that strives for anything but the typical 'average' and mediocre right here in Southeast Iowa. Additionally, I have had the pleasure of sitting down with hundreds of business owners in our area, together developing marketing and sales solutions that truly get results."
And local leaders understand the impact of having a company like Hill Productions and Media Group as part of the Bloomfield community. John Schroeder, Davis County Development Corporation Executive Director, shares his thoughts:
"The Davis County Development Corporation welcomes Hill Productions and Media Group to Bloomfield, Iowa. To have a modern, progressive, forward thinking company like Hill Productions and Media Group come here to hire our workers, expand our tax base, and help grow our community is beyond important, it is essential. And just as notable is the fact that they have chosen to locate on our historic town square. Bloomfield is excited and, indeed, overjoyed, to have Hill Productions and Media Group as a part of our business community."
Founded in 2006 HPMG has evolved into a full service marketing and consulting firm. With a core philosophy that includes the tagline "It's only good if it works.", Hill continues to build a highly trained team with service offerings that include marketing, sales, and consulting components. Currently the company handles accounts for clients across the country and even internationally.