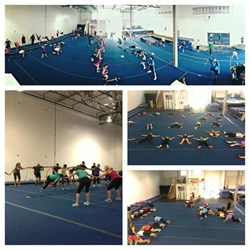 Hosting a boot camp fundraiser raises awareness and boasts a healthier mindset to take care of ourselves...
Hillsboro, OR (PRWEB) September 13, 2013
On Saturday, September 28th at 8 a.m., owner of the popular Hillsboro gym, Fit Body Boot Camp found on the west side of the Portland metropolis area, Angel Martin with friend and fitness enthusiast Alison Pedersen, will throw a charity boot camp fundraiser in order to support two great causes, the MS Society and Susan G. Komen for the Cure.
Hillsboro Fit Body Boot Camp's fundraiser will be held at Rock Creek Park between Cornelius Pass Road and NW 185th Ave. Registration for the charity boot camp is limited to the first 75 people who register and the fee to participate is a minimum donation of $20, but additional donations are certainly welcomed as all proceeds are going to benefit the both the MS Society and Susan G. Komen for the Cure.
Martin, who is a huge health and wellness advocate, says she wanted to throw this boot camp fundraiser so members of the community could have a chance to experience an effective fat-burning boot camp workout and support two very important causes at the same time.
She explains, "Hosting a boot camp fundraiser raises awareness and boasts a healthier mindset to take care of ourselves. I choose to support The MS Society because I was diagnosed with the disease about seven years ago. I'd like to demonstrate to others that even those who may have a disease do not have to 'suffer' from it. Alison chose Susan G Komen as this is her sixth year participating in the 3-Day for a Cure because walking 60 miles is not just a statement; it's also a journey. Just like MS, Breast cancer shows no discrimination... young, old, male, female."
Living with multiple sclerosis herself, Martin knows firsthand the struggles that come with being diagnosed with the disease. Through years of staying active and eating a healthy diet, Martin was able to control her condition without medication and hopes to be an inspiration to others who might be suffering from a serious medical condition or just wants to be a healthier person in general.
She says, "You see, I live with MS (multiple sclerosis), and what that means is this… If I don't stay healthy and active I can possibly go blind, not walk, and have to stay on medication for the rest of my life."
Getting the Hillsboro community healthy and active is a major priority for Martin, and that's one of the main reasons why she decided to open a Fit Body Boot Camp in the area. She felt that opening up a group personal training center was the perfect solution to helping more locals reach their weight loss and fitness goals.
To register for the Fit Body Boot Camp charity boot camp fundraiser, please visit
https://angelsfitbodybootcamp.myvolo.ca/club/store/shopcart.jsp?rand=0.9053717004792449
About Angel Martin
Martin has been in the fitness industry as a Certified Personal Trainer and Group Exercise Instructor since 1993, and also holds a B.S. degree in Exercise Science. Her passion for delivering results grew when she realized that she could help more people achieve their fitness goals with group personal training, rather than the traditional on-on-one personal training model. Being a long time fitness veteran, Martin continues to keep up with new and modern exercise techniques to ensure that her boot campers receive the most up to date exercises. Martin currently sees over 100 clients in her three boot camp workouts that she offers daily.
About Fit Body Boot Camp Hillsboro
Hillsboro Fit Body Boot Camp is part of the family of Fit Body Boot Camp indoor fitness boot camp franchises, whose global initiative is to expose and engage 20% of the world's population in a healthy and fit lifestyle by the year 2020. Hillsboro Fit Body Boot Camp is owned and operated by fitness expert and Hillsboro personal trainer Angel Martin. For more information about Hillsboro Fit Body Boot Camp or the Fit Body Boot Camp fitness franchise, please visit http://angelfitbodybootcamp.com/ and http://www.myfitbodybootcamp.com/