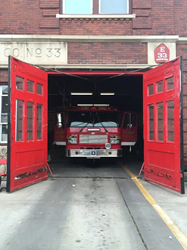 Detroit, Michigan (PRWEB) December 13, 2014
Hillside Furniture, Michigan's Contemporary Furniture Authority, is teaming up with Detroit Firehouse Engine 33 Ladder 13 to support local firefighters making sure they are comfortable and safe this holiday season. On Friday, December 19, 2014, Hillside Furniture will be making a huge furniture delivery to the firehouse worth over $25,000 of furniture and accessories. The main focus of the delivery is to support this firehouse of heroes by giving them one of the main things they are lacking in the firehouse, comfortable furniture.
"I have an opportunity to make these guys more comfortable after a hard day of work fighting Detroit fires." said Hillside Furniture President Jeff Selik."These guys are the true heroes and unfortunately our city has neglected them. I know that this is just one firehouse, but it's a start."
After being involved with Jewish Federation of Metro-Detroit's NextGen event called "Pitch for Detroit", last August, Selik learned about the firehouse's needs. The firemen and firehouse was in dire need of flashlights, a freezer, a refrigerator, bathroom necessities, cleaning supplies, kitchen supplies, fire truck repair and most of all, furniture. When Selik noticed furniture on the firehouse list, he told the firehouse not to spend a dime and quickly called his manufacturers to help.
"Not only is Hillside donating furniture directly from our warehouse, but several of our manufacturers are eager to donate as well." A big thank you goes to American Leather, Palliser, BDI Furniture, Lazar, Elite Modern, Nuevo, Zuo Modern, Dreamweavers, Adesso Lighting and Costco for making this all happen." said Jeff Selik.
On Friday, December 19, 2014, Hillside Furniture delivery trucks will be rolling in with new furniture for 5 rooms in the firehouse. Those rooms include the main office, dining room, recreation room, sleeping quarters and the captain's room.
"These guys get virtually no support from the city of Detroit. They have to buy everything themselves". Just to get furniture in the house, guys have used old furniture from garbage dumpsters and have accepted old and used hand me downs just to have a chair to sit in and a bed to sleep in at the end of the day". Now, they can be comfortable and safe with clean, new furniture from Hillside and our generous manufacturers." explains Selik.
Hillside Furniture first opened its doors in Bloomfield Hills, MI., in 1974 as a full line furniture store, carrying medium to upper end merchandise. Now it's an all-contemporary furniture and accessories showroom known to be "The Best Furniture Store" in Metro-Detroit three years in a row by Hour Detroit readers. Hillside Furniture is a family owned Michigan business with Jeff Selik as President overseeing the day-to-day operations, merchandising, and advertising. Terri Selik controls all floor displays and payables, while Bruce Selik is CEO and oversees the total operation.