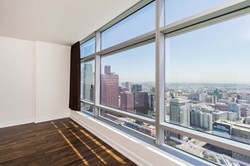 [The condo] truly is a unique home with top-of-the-line amenities, luxuries and a view of Los Angeles that is second to none.
Beverly Hills, CA (PRWEB) September 20, 2013
The prestigious luxury real estate firm Hilton & Hyland proudly announces the sale of the home of undefeated professional boxer Floyd Mayweather. Representing Mayweather in the sale of his three-bedroom, three-bathroom condo at the Ritz Carlton in Downtown Los Angeles is esteemed agent Nichelle Robinson.
Nichelle Robinson is familiar with the lifestyle of a professional athlete given that her father is Baseball Hall of Famer Frank Robinson. "Growing up with a father who was a professional baseball player not only sparked my passion for sports, but also gave me a unique understanding about real estate due to the constant moving around from one town to the next," said Robinson.
Mayweather was named as the fourteenth highest paid athlete on Forbes. For those who are familiar with the career of the famous boxer, he is not one to be economical with his spending and especially so when it concerns his glamorous lifestyle. Growing up with little and achieving a lot in his adult life allows Mayweather to indulge in pricey extravagances such as a beautiful condo in the exceptional Ritz Carlton tower in Los Angeles.  With that in mind, it comes as no surprise that this home is truly breathtaking. The three-bedroom, three-bathroom residential condo spans out over 2,500 square feet and looks out over the heart of L.A. Live as well as the magnificent Los Angeles skyline from the 42nd floor of The Ritz Carlton. The Residences at L.A. Live were developed by AEG and designed by prominent and internationally recognized architect Gensler. With 24/7-concierge service, in-room dining, world-class spa, full service fitness center and rooftop pool with private cabanas you can see why The Champ chose the Ritz Carlton as a place to call home. This residential condo is listed at $2.5 million.
"Floyd Mayweather's condo at the Ritz Carlton truly is a unique home with top-of-the-line amenities, luxuries and a view of Los Angeles that is second to none," said Robinson. "The Ritz Carlton Residences exude the professionalism expected from a brand of their caliber, but they also offer so much more in terms of luxury, which appeals to anyone in search of the glamorous lifestyle of a celebrity athlete."
Robinson is a top-producing agent in Beverly Hills and has helped some of the largest names in sports and entertainment settle into their dream homes. She possesses the integrity, discretion and professionalism that are necessary to handle a transaction with a high-profile client. Clients applaud Robinson's ability to appraise luxury real estate with her near pinpoint accuracy, which is a necessity when buying or selling real estate.
To learn more about Hilton & Hyland realtor Nichelle Robinson or for more information about Floyd Mayweather's Condo at The Residences at The Ritz Carlton visit http://www.hiltonhyland.com or connect with Nichelle via phone at (310) 854-4130.