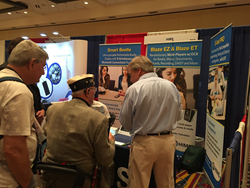 . . . being able to help [vision impaired veterans] live more independent and joy-filled lives through the use of our assistive technology products . . . is an honor we simply cannot put to words.
Louisville, KY (PRWEB) August 25, 2015
Supporting our armed forces, especially blinded veterans, is deeply important to the dedicated staff that work for HIMS, makers of leading assistive technology products for people with low vision or blindness. The Blinded Veterans Association (BVA) has been advocating for and serving the vision impaired subset of the veteran population since the end of World War II. Austin, Texas-based HIMS Inc. was delighted to have an opportunity to meet with and demonstrate their life-changing assistive technology products to this highly esteemed group during the BVA's 70th National Convention last week (August 17 – 21, 2015) in Louisville, KY.
HIMS brand low vision, Braille and OCR products have dominated many conversations this year among professionals in rehabilitation and education as well as visually impaired students, employees, and consumers themselves. Innovations like E-bot, E-bot ADV and E-bot PRO Portable Video Magnifiers with iPad compatibility, built-in Wi-Fi for integrated OCR text-to-speech, distance magnification and exclusive electronic camera control (E-bot PRO only) which were not previously found all together in any single device.
The same can be said for the unique Blaze EZ and Blaze ET Multi-Players with OCR. These pocket-sized media players not only store and play back digital books and documents, but also have an integrated camera for OCR text-to-speech to capture and read aloud hardcopy printed documents on-demand. Blaze Multi-Players also have built-in Wi-Fi for simplified search and download from services like BookShare and NLS Download and easy access to a host of internet radio stations and podcasts.
HIMS CANDY 5 HD II Handheld Video Magnifier also received a lot of attention from BVA Convention attendees. The 5" LCD handheld video magnifier has an ergonomic 3-position handle with a convenient image capture button, near-distance magnification up to 22x and self view (mirror view) camera making it one of the most useful portable video magnifiers.
In speaking about this event, HIMS Inc. President, James McCarthy, who is himself legally blind, shared "This convention in particular is an event that the whole HIMS team feels passionate about. It's not everyday that you get to come face-to-face with so many true American heroes all in one place – and being able to help many of them live more independent and joy-filled lives through the use of our assistive technology products for low vision and blindness. It's an honor we simply cannot put to words."
For more information about the BVA Convention, visit http://www.bva.org/convention. To learn more about HIMS assistive technology products, visit http://www.hims-inc.com/products or call 888-520-4467 to speak to an assistive technology specialist.
Since its founding 16 years ago, HIMS has been devoted to improving opportunities for the visually impaired through the development of technology products for people who are blind or have low vision. HIMS Inc., an Austin, Texas-based company that specializes in assistive technology products is a wholly owned subsidiary of HIMS International Corporation.