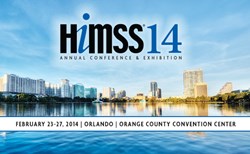 Scottsdale, AZ (PRWEB) January 06, 2014
Health BI the leading (SaaS) Care Management software solution vendor will demonstrate the HealthCollaborate™ Care Transition Management Application at upcoming HIMSS14 conference at Orange County Convention Center in Orlando, Florida on February 23-27 at booth 1419.
HealthCollaborate™ enables healthcare organizations and health plans to coordinated, manage and monitor patient care transitions anywhere/anytime. This EMR neutral solution, aligns patient-specific transitional care needs with customized care plans, multi-source data and patented technology to efficiently navigate patients from hospitals to ambulatory and community care settings.
Health BI helps its clients to:
-Reduce Hospital Readmissions
-Proactively Manage Care for Large Patient Populations
-Automate Care Coordination Manual Processes
-Improve Patient Satisfaction Scores
-Reduce Care Coordination Costs while Improving Outcomes
-Improve Care Coordination Quality Metrics and Reporting
About Health BI
Health BI is the leading developer of (SaaS) Enterprise Care Transition Management Application for the Population Health Management market. Health BI was created by a team of Health IT Innovators and physicians to fill the need for tools that enable healthcare providers and Health Plans to efficiently and cost-effectively manage care with minimal impact on the day-to-day operation. At Health BI, we envision a healthcare system that proactively engage, monitor and navigate patients through the continuum of care and we have built software solutions and services to support this new model of healthcare delivery. Health BI's HealthCollaborate™ Care Transition Management Application is an enterprise solution that empowers healthcare providers and Health Plans to coordinate, manage and monitor transition of care for patients from hospitals to multiple post-acute care settings.