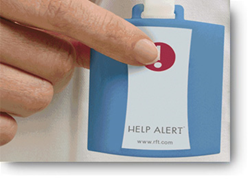 Chatham, New Jersey (PRWEB) February 27, 2014
Desktop Alert Inc. today announced that it formally presented the companies award winning and leading U.S. Department of Defense mass notification platform at HIMSS 2014.
HIMSS is a global, cause-based, not-for-profit organization focused on better health through information technology (IT). HIMSS leads efforts to optimize health engagements and care outcomes using information technology. The 2014 Annual HIMSS Conference & Exhibition, February 23-27 in Orlando, brought together 37,000+ healthcare IT professionals, clinicians, executives and vendors from around the world.
Noted keynote speakers included Mark Bertolini, Chief Executive Officer, AETNA and Hillary Rodham Clinton.
"We presented over 50 demonstrations of the Desktop Alert healthcare notification platform to key decision makers during the exposition. We were very pleased with HIMSS 2014 and look forward to the 2015 show in Chicago," said John Monville, President Desktop Alert Inc.
Desktop Alert is a leading provider of mass notification solutions to over 50 major hospital organizations in North America and is the single largest provider of mass notification technology to the United States ARMY.
About Desktop Alert: http://www.desktopalert.net
Worldwide U.S. military organizations such as the U.S. National Guard, the U.S. Air Force Academy, the U.S. Military Academy at West Point, Multi-National Forces in Iraq, the U.S. Air Force, and The U.S. Army now utilize the Desktop Alert total mass notification platform daily for their organization's emergency communication requirements. Desktop Alert can contact thousands of computer users at their desktop and require them to click to confirm receipt of the message flashed on their screen. Those not verified can then be listed on a report and/or sent as a "Target Package" to be automatically contacted by other means such as email, SMS, phone calls and other devices.