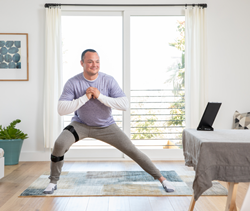 SAN FRANCISCO (PRWEB) August 22, 2019
Hinge Health, the leading digital musculoskeletal (MSK) care solution, today announced that the Hinge Health core production systems, Amazon Simple Storage, and Google Drive have earned Certified status for information security by HITRUST.
"Hinge Health's mission is to be your healthcare co-pilot, ensuring health doesn't get in the way of our patients goals. As such, keeping our customer's data safe is our top priority. Earning HITRUST certified status demonstrates to our customers and participants we are following industry-recognized best practices with regards to security, availability, integrity, and confidentiality," said Julian Diaz, Hinge Health's CTO.
HITRUST CSF Certified status demonstrates that the previously listed applications have met key regulations and industry-defined requirements and is appropriately managing risk. This achievement places Hinge Health in an elite group of organizations worldwide that have earned this certification. By including federal and state regulations, standards and frameworks, and incorporating a risk-based approach, the HITRUST CSF helps organizations address these challenges through a comprehensive and flexible framework of prescriptive and scalable security controls.
"HITRUST has been working with the industry to ensure the appropriate information protection requirements are met when sensitive information is accessed or stored in a cloud environment. By taking the steps necessary to obtain HITRUST CSF Certified status, Hinge Health is distinguished as an organization that people can count on to keep their information safe," said Ken Vander Wal, Chief Compliance Officer, HITRUST.
About Hinge Health
Hinge Health is pioneering digital care programs for people with chronic musculoskeletal conditions such as back or joint pain. Our market-leading technology creates a delightful participant experience by combining sensor-guided exercise therapy with health coaching and education. Hinge Health is available to over 2 million members and is the #1 digital chronic musculoskeletal solution for employers and health plans. Founded by Oxford and Cambridge scientists, we've empowered thousands to conquer chronic pain, avoid unnecessary surgeries, and liberate them to do the things they love. Learn more at http://www.hingehealth.com