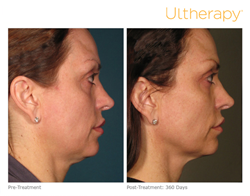 Nonsurgical skin tightening offers results similar to a facelift without scalpels or surgery.
Hinsdale, IL (PRWEB) March 21, 2017
Aging affects each individual differently. The extent to which the skin ages depends on genetic factors, habits and more. But all individuals age sooner or later - and they can feel that there's no way to fight back against the aging process. When sagging skin takes hold on the face and neck, getting back to a youthful appearance can feel hopeless without surgery. Fortunately, today's technology holds a better solution. Non-invasive procedures yield ideal results without putting patients under the knife.
Hinsdale's Laser Aesthetic Center continually updates the technologies it has on offer. The newest addition to the practice is Ultherapy, an ultrasound skin tightening treatment. Patients frustrated by loose or sagging skin on the face or neck should learn more about whether they are candidates for Ultherapy. This "mini lift" treatment offers individuals not quite ready for a facelift with a more patient-friendly alternative.
About Ultherapy Skin Tightening
Skin laxity is a common aging concern. But many patients find an option like a facelift overly invasive, and aren't ready for that kind of dramatic treatment. Instead of choosing surgery, more and more individuals are turning to non-invasive options like Ultherapy. This treatment is FDA-cleared to lift skin on the neck, brow and chin, and to smooth wrinkles and fine lines on the chest.
Ultherapy works differently from other skin tightening treatments. Ultrasound energy is uniquely suited to reach the deep layers of the skin responsible for skin laxity. Skin becomes looser as internal structures break down, leading the more superficial layers of skin to sag and wrinkles to form. Ultherapy stimulates healing and collagen production deep within the skin, tightening the skin overall. Ultherapy reaches a 4.5mm depth with targeted ultrasound energy. This depth was previously only accessible via surgery.
In the weeks and months after treatment, the skin gradually tightens and lifts.
Who Is An Ultherapy Candidate?
Those with mild to moderate skin laxity will typically be candidates for Ultherapy. If skin is beginning to look and feel less firm, this is a good time to consider non-invasive skin tightening. Those seeking to improve their self confidence and reduce signs of aging find that non-surgical treatments can make a significant difference. The Laser Aesthetic Center offers complimentary consultations so that patients can learn more about their options without making any commitment.
About Laser Aesthetic Center
Laser Aesthetic Center in Hinsdale is committed to providing the highest standards in medical service, focusing on customer satisfaction and using the latest technologies to achieve the best results for clients. All aestheticians at Laser Aesthetic Center are licensed in the state of Illinois and have many years of experience in all services offered. They have undergone training by the following medical device and laser manufacturers: Cynosure®, Palomar®, Cutera®, and CoolSculpting® and continuously advance their knowledge to remain on the forefront of laser medicine and skin care.
For more information on any of their services, please call (630) 920-9155 or visit http://laser-aesthetic-center.com.