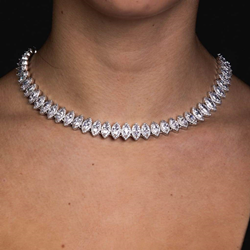 The Marquise Cut Cluster Tennis Chain White Gold is built to exude the royalty and elegance of hip-hop music in a glamorous form-factor.
LOS ANGELES (PRWEB) March 10, 2021
In its latest work, hip-hop jeweler 6 ICE has created a marquise tennis chain that embodies the spirit of hip-hop and is crafted with cutting-edge technology. 6 ICE has worked to source the latest trends in street culture and urban fashion and developed this item which is white gold plated and embedded with flawless VVS stimulants that meet our strict standards in style and quality. We are greatly pleased with this piece and believe that it will live up to the high standards and demands of hip-hop listeners across the globe.
Available in 16 inch, 18 inch, and 20 inch sizes, the Marquise Cut Cluster Tennis Chain White Gold is built to exude the royalty and elegance of hip-hop music in a glamorous form-factor. This exceptional piece features flawless VSS simulant diamonds reinforced with a white gold plating and bound by an 8 millimeter chain, allowing it to rest prominently and proudly just above the neckbone. Its radiant appearance is best suited for classier engagements such as weddings, formal work engagements, or any ceremony like an award show.
The Tennis Chain is a decorative item that contains small diamonds or chains connected by a thin wire band and comes in bracelets, anklets, and of course necklaces. These are highly coveted items as the design contains a high volume of gemstones and provide a spectacle unrivaled by other jewelry items. Interestingly, this style of chain gets its name from the 1987 U.S. Open, in which Chris Evert was forced to pause an important match as her diamond bracelet became unclasped, and she needed to retrieve the pieces. When evaluating the quality of a tennis chain, you'll want to ensure the chain is structured properly and includes a secure clasp; the Marquise Cut Cluster has a short 8 millimeter chain to avoid unnecessary movement and utilizes a box clasp to provide extra protection for these precious gems.
Every product from 6 ICE comes 5 times-dipped in 14k-18k Gold to prevent tarnishing, which is the highest quality method of plating available on the market. As such, this tennis chain includes our lifetime guarantee, and will be replaced should it fade, break, or tarnish. We work within full compliance to the standards set forth by the Federal Trade Commission and Jewelry Vigilance Committee to provide the best possible results, and all of our orders include a certificate and guarantee card. We recommend keeping your item stored in either the provided dust bag or a quality storage box with tarnish-proof fabric and individual compartments for each item. Avoid keeping your tennis chain or any other jewelry stored with rubber products, and always remove it when applying a chemical product such as a perfume or cologne.
With operations in both Los Angeles and Toronto, 6 ICE is the premiere name in high-quality hip hop jewelry that is as spectacular and sturdy as the music it is inspired by. With a lifetime guarantee, worldwide shipping, and hand-crafted materials, we work to provide the best quality possible to meet your demands and our standards.
For additional information, visit https://6ixice.com/, or on Instagram at @shop6ice and Facebook.