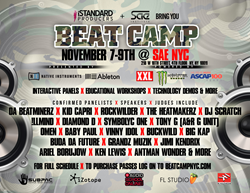 To me, 'Beat Camp' is music business boot camp. By the time it's over, every attendee in the house will know exactly what he or she needs to do to take their career to the next level.
New York, NY (PRWEB) October 28, 2014
"Beat Camp," a comprehensive experience for aspiring music producers, recording artists, and audio engineers, will be presented at SAE Institute New York from Friday, November 7 through Sunday, November 8. "Beat Camp" is a partnership between SAE Institute and iStandard Producers, an organization that creates networking and collaboration opportunities for professional music producers.
"Attendance at 'Beat Camp' is a perfect first-step for aspiring music business professionals who want to turbocharge their careers," says SAE New York Campus Director Steven Kashkin. "The education and networking opportunities for participants will be incredible, and will allow anyone who's serious about working in today's music industry to make huge strides in their professional journeys."
"Beat Camp" will feature classroom discussions on producer branding, management, A&R meeting simulations, studio techniques, networking/brand building strategies, songwriter-producer synergy, sampling, and live mixing sessions. Each seminar will be led by top industry professionals with major credits and experience, including stars such as Rockwilder, Buckwild, Rsonist (of The Heatmakerz), !llmind, Jimi Kendrix, Symbolyc One aka S1, Baby Paul, and many more.
Evening "Beat Camp" activities will include the iStandard Producer Showcase, Celebrity Beat Cyphers, and Impromptu Beat Battles. There will also be vendor demos, raffles, and other special events throughout the weekend. "Beat Camp" sponsors include Ableton, Monster Energy Drink, XXL Magazine, and Native Instruments.
"To me, 'Beat Camp' is music business boot camp," says iStandard co-founder J. Hatch. "The pros who are participating in the seminars inject real life, first-hand experience into the discussion, and let attendees know that being a working music professional isn't just about beats and grooves – it's a business. By the time 'Beat Camp' is over, every attendee in the house will know exactly what he or she needs to do to take their career to the next level."
iStandard Beat Camp will be held at SAE Institute's New York campus, located at 218 W.18 Street. The two-day event will begin on Friday, November 6 and run through Sunday, November 9. For more information, visit the Beat Camp NYC website or contact SAE Institute New York at (212) 944-9121.
About SAE:
SAE USA provides aspiring creative media professionals with a foundation of practical theory and valuable hands-on training in their chosen areas of concentration. Under the guidance of our faculty, which is comprised of working industry professionals, students gain the essential experience they need for entry-level jobs in the entertainment business. Our students are supported in their job searches by SAE's international network of alumni, many of whom are leaders in the music, film, gaming, and live performance arenas. Across our seven US campuses, we offer two accelerated Associate Degree programs and two Diploma programs in audio technology and music business, all fully accredited and focused on making students employment-ready when they graduate. SAE is a part of the Navitas group. Learn more about SAE at USA.sae.edu/en-us/home.
About Navitas:
Navitas is an Australian global education leader, providing pre-university and university programs, English language courses, migrant education and settlement services, creative media education, student recruitment, professional development, and corporate training services to more than 80,000 students across a network of over 100 colleges and campuses in 27 countries. Further information about Navitas is available at Navitas.com.