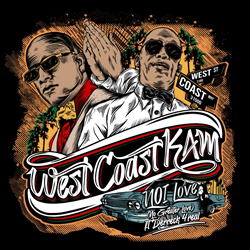 "No Greater Love"
LOS ANGELES (PRWEB) September 24, 2020
KAM, now referred to as West Coast KAM, is one of the most well respected Rap Artists in Hip Hop. Known for his strong Pro-Black street-lyrics and his NOI (Nation Of Islam) membership, Kam has been a consistent leader in his community and in the Hip Hop Industry for nearly 3 decades now. In 2020, he continues and reinforces his "Hip Hop Legend Status" with a brand new banger entitled "NOI LOVE (No Greater Love)" ft. Derreck 4real, off of his newly released Mixtape Album, "2020 GOD VISION". Kam is known for the hip hop classic single "Peace Treaty," a song chronicling the historic 1992 LA Gang Truce between the Crips and the Bloods following the not-guilty verdicts of the 5 white LAPD officers who brutally beat the late Rodney King, which was the first such act caught on camera for the world to see in our era. Kam is set to release a lot of new material later this year and early 2021 featuring such artists as Kurupt of Tha Doggpound, Tha Chill of Compton's Most Wanted, R&B Star Raheem DeVaughn, the recently deceased Reggae legend Purple Man and more, with production from the legendary producer DJ Battlecat.
Kam has collaborated with many top artists over his career, including Ice Cube, Snoop Dogg, Coolio, E-40, Erick Sermon, MC Ren, C-Bo, DJ Quik, DJ Pooh, Tha Eastsidaz, Method Man, KRS-One, Public Enemy, Nate Dogg, Warren G, Paris, Big Gipp, Tha Dogg, Dame Dash, Cypress Hill, Pound, Xzibit, Tyrese, Tank, George Clinton, Yukmouth, Glasses Malone and David Banner just to name a few. Kam was also a member of Snoop Dogg's West Coast supergroup called "The Warzone" with MC Eiht and Goldie Loc. Kam and his biological younger brother, "Yung Bruh", are also an NOI-based rap group called, Fruit Pruno.