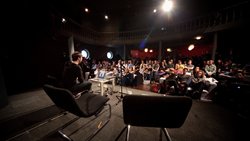 Attendance at the Bay Area Producers Conference will be a perfect opportunity for media creatives, in any job and at any level, to turbocharge their careers.
Emeryville, CA (PRWEB) September 10, 2015
The sixth annual Bay Area Producers Conference (BAPC) will be take place at the Emeryville, CA campus of Ex'pression College, one of America's leading digital media arts schools. The two day conference (Friday, September 25 and Saturday, September 26) will offer a networking and education platform for aspiring Bay Area songwriters, rappers, engineers, DJs, and producers as well as for full time music, film, and fashion industry professionals.
"Attendance at the Bay Area Producers Conference will be a perfect opportunity for media creatives, in any job and at any level, to turbocharge their careers," says Ex'pression College Emeryville Campus Director Fred Faridian. "The Conference's panels and events will allow all attendees to make huge strides in their professional journeys."
Panels at the BAPC will include:

A keynote presentation by Grammy-winning producer Focus (Christina Aguilera, Jennifer Lopez, Beyoncé Knowles, 50 Cent), moderated by Gian Fiero (CEO and Founder of Fiero Flair, and former adjunct professor at San Francisco State University's Music/Recording Industry Program)
"Show Me The Money" music producers panel, featuring Cozmo (Wiz Khalifa, Game, Nipsey Hussle), Max Perry (Snoop, Berner, YG), Adrian Marcel (Sage the Gemini, French Montana), and Rawsmoov (Rick Ross, E-40, Sean Kingston)
"Face The Music" panel, hosted by Gian Fiero and featuring audio professional Josh Srago (AVNation.tv, SoundReason.org, InfoComm International), producer Dublin Beats (Keyshia Cole, Bone Thugs-n-Harmony, Jagged Edge), vocal coach and backup vocalist Lindy LaFontaine, and songwriter/producer Gennessee Lewis (Mac Dre, Baby Bash, Frankie J)
A mentoring session with music business professionals, including entertainment attorney Mark A. Pearson (founding partner at ARC Law Group), award-winning audio engineer Michael Denten (E-40, Rick Rock, Bobby Brown, Digital Underground, En Vogue, Backstreet Boys), and digital marketer James Guttaman (Fame House)
A pro tech audio panel, featuring demos of breakthrough products for 2015-16
BAPC will also feature a kick off networking party at Parliament in Oakland on Friday, 9/25 (hosted by event partners Allattractive and RnBass) as well as a Producer Beat Battle Showcase on Saturday, 9/26 at Ex'pression College.
"We've worked with Ex'pression College since 2011, and we love the place," says Founder and Executive Producer of BAPC Mario Flores. "Along with its excellent layout, the greatest things about Ex'pression are the people, the staff, and the students who have helped make our events successful. We're looking forward to presenting BAPC '15 at Ex'pression once again in September, and we hope to see the Bay Area music community come out and support this fantastic networking and education gathering."
BAPC will be held at Ex'pression College's Emeryville campus, located at 6601 Shellmound Street. The event will begin on Friday, September 25 and run through Saturday, September 26. To register, visit the Bay Area Producers Conference website or contact BAPC at (805) 669-6374.
About Ex'pression
Ex'pression College is a digital arts college in California's San Francisco Bay Area, offering Bachelor of Applied Science degrees in Sound Arts, Interactive Audio, Graphic Design & Motion, Digital Filmmaking, Animation & Visual Effects, and Game Art & Design. Ex'pression's courses are accelerated, class sizes are limited, and the faculty is staffed with experienced industry professionals. At Ex'pression, students use professional-grade equipment and facilities, and receive a hands-on educational experience in working environments that emulate the industries they'd love to be a part of. Ex'pression College was acquired by SAE Institute in 2014.
About SAE
SAE Institute provides aspiring creative media professionals with a foundation of practical theory and valuable hands-on training in their chosen areas of concentration. Under the guidance of our faculty, which is comprised of working industry professionals, students gain the essential experience they need for entry-level jobs in the entertainment business. Our students are supported in their job searches by SAE's international network of alumni, many of whom are leaders in the music, film, game arts, and live performance arenas. We offer programs in audio technology across our seven US campuses, along with a music business program at select locations, all fully accredited and focused on preparing students for employment when they graduate. Bachelor's Degree programs in Animation, Audio, Film, Game Art & Graphic Design are available at the two locations of Ex'pression College, which is owned and operated by SAE Institute Group, Inc. SAE Institute Group, Inc. is a part of Navitas LTD. Learn more at USA.sae.edu.