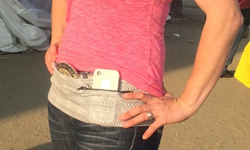 Now we're talking - Cell-Fie HipBand cellphone holder with even bigger pockets - even the huge Galaxy fits comfortably. Thank you Nifty-Nifty.
Provo, UT (PRWEB) August 05, 2014
Nifty-Nifty.com, the world's leader in innovative, hands-free fashion accessories, has just announced that their Cell-Fie Hipband Cellphone Holder has been revamped to include roomier pockets.
"We at Nifty-Nifty.com continue take consumers' comments into account, and as such, we've created a new improved Cell-Fie Hipband Cellphone Holder, with seven inch pockets; big enough to easily accommodate even the largest varieties of Smart phones", says Nifty-Nifty.com's co-founder, Wendy Miller, adding, "Our celebrity-endorsed Cell-Fie has always been a great option for those on the go, but now, it's just a smidge greater."
More info on Nifty-Nifty.com's new improved Cell-Fie Hipband Cellphone Holder: http://www.nifty-nifty.com/cell-fie-best-hip-band-smartphone-cellphone-holder/.
The Cell-FieHipband/Waistband Cellphone Holder is a comfortable band, made of stretchy, machine-washable fabric that slips right over one's casual or business attire, providing all day, hands-free convenience. Complete with two, extra large zip pockets, plus one secret slot pocket, the Cell-Fie allows both male and female consumers to carry their cell phones, wallets, keys, passports, water bottles, sports accessories, or any other small items, securely and stylishly, wherever they may go.
The Cell-Fie Hipband Cellphone Holder (touted as the anti-fanny pack) comes in four sizes, ranging from Small to Extra-Large, and is available in a wide range of colors and patterns, with something to suit everyone's personal preference, including; Black, Black and White, Navy, Radiant Red, Purple Purple, Silver Grey, Latte, and Shimmer Apple Green. Whether at work or at play, the eye-pleasing, functional Cell-Fie Hipband Cellphone Holder helps make life a whole lot easier.
About Nifty-Nifty.com
Nifty-Nifty.com caters to a diverse clientele from all over the world. As the world's leading online retailer of innovative, versatile products, Nifty-Nifty.com specializes in nifty products such as Biker Purses, Phubby, Specs-In-A-Sec magnetic eyeglass holders, Cell-Fie HipBand cellphone holders and Cross Body Cell Phone Purses, among others. All products are offered at highly competitive prices with zero charge shipping in the USA and Canada.
http://www.Nifty-Nifty.com
Tel. 858-248-2302