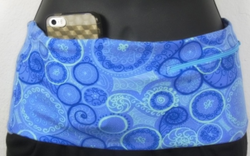 Guys and gals are going crazy for Cell-Fie HipBand/Waistband cellphone holder - come see for yourself!
Carson City, NV (PRWEB) September 23, 2014
September 27th and 28th, visitors of the 94th Annual Candy Dance Arts & Crafts Faire in Genoa Nevada, will be treated to the best of the best in hands-free cell phone carriers, as fashion gadget innovators, Nifty-Nifty.com, present their extraordinary Cell-fie Hipband/Waistband Cellphone Holder.
"We at Nifty-Nifty.com are ecstatic to be participating in this year's upcoming Candy Dance festival, where we will be demonstrating our top-selling fashion accessory, the Cell-Fie HipBand Cellphone Holder, for all the accessory savvy attendees", states Wendy Miller, co-founder of Nifty-Nifty.com. "Guests of the faire will have a chance to see the incredible Cell-Fie in action, and purchase one in their favorite color variety from us directly."
Learn more about Nifty-Nifty.com's Cell-Fie Hipband Cellphone Holder, here:
http://www.nifty-nifty.com/cell-fie-best-hip-band-smartphone-cellphone-holder/
Cell-Fie Hipband Cellphone Holder is the coolest, most comfortable way to carry one's cell phone and other small accessories. This machine washable stretch-cloth band, complete with 3 pockets, fits snugly around one's waist or hips, keeping cell phone, keys, wallet, passport, and other small items easily within reach.
Available in 4 sizes, and several mod color options, including, Black and White, Radiant Red, Silver Gray, Purple Purple, Black, Latte, Navy and White, The Cell-Fie Hipband/Waistband Cellphone Holder is just right for any stylish man or woman on the go, who appreciates comfort, convenience, quality products.
Stop by the Nifty-Nifty.com booth at the Candy Dance Festival, Saturday and Sunday, September 27-28, 2014, from 9 a.m. to 5 p.m. and experience the hands-free sensation, the Cell-Fie HipBand Cellphone Holder, firsthand.
About Nifty-Nifty.com   
Nifty-Nifty.com caters to a diverse clientele from all over the globe. As the world's leading online retailer of innovative, versatile products, Nifty-Nifty.com specializes in nifty products such as Biker Purses, Phubby wrist cellphone holder, Specs-In-A-Sec magnetic eyeglass holders, Cell-Fie HipBand Cellphone Holders and Cross Body Cell Phone Purses, among others. All products are offered at highly competitive prices with zero charge shipping in the USA and Canada. 
http://www.Nifty-Nifty.com
Tel. 858-248-2302