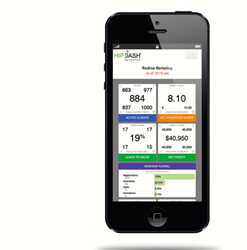 "HipDash's smart indicators turn the lights on in your business. I can't imagine running a business without them." - Adam Little
Phoenix, Arizona (PRWEB) May 01, 2014
eyefire™ Chief Executive Officer Jeremy Bowman and Chief Marketing Officer Woods Davis can't take their eyes off the prize, the prize of HipDash's new smart dashboards for smart business. Hip Dash has been brought to life by eyefire™ Chief Technology Officer Jay Patel and Chief Software Architect Dattu Joshi.
"We just found each other," says Jeremy Bowman when asked how they were able to assemble such a special and talented team. "All four co-founders play vital rolls. We trust one another. We inspire each other in different ways. For example, when we watch Jay Patel and Dattu Joshi make our vision a working reality, it inspires Woods and me to make sure we match do our very best for them. That's what makes the best teams," adds Bowman. "When every member of a team inspires every other member to perform their best work."
Hip Dash by eyefire™ gives small business leaders power by enabling them to know exactly what's happening in their business real-time. "More powerful than that," says Woods Davis, "is that HipDash's proprietary Smart Indicators™ literally tell you what to do. It eliminates hunches and wondering and restores confidence and swagger to small businesses."
Hip Dash currently integrates with QuickBooks™, Infusionsoft®, and Google Docs™.
"Your confidence grows," says Davis. "You save so much time and costly mistakes. This integration with QuickBooks™, Infusionsoft™, and Google Docs.™ means you don't have to go searching through different applications to find the numbers you need. Hip Dash to make sure it's all there."
Hip Dash by eyefire™ launched to an enthusiastic reception from the 3,000+ small businesspeople gathered at the Phoenix Convention Center for ICON14, the ultimate event for small business success.
"It's easy to build an app that's hard to use," adds Bowman. "But building a sophisticated app that's easy to use, that's hard. Making a process simple, fast and reliable is what we wanted. A simple way to get our business numbers on the fly. That's how HipDash by eyefire™ came to be. And the response from our customers has been the biggest source of excitement and motivation for us."
Hip Dash is available at HipDash.com and the Infusionsoft Marketplace.
About eyefire™
eyefire™ delivers a comprehensive and simple reporting data system for small businesses. Its web-based HipDash solution gives small business leaders the power to see any metric at any time on any device, so that decisions can be made with facts and not hunches. It's the NEW Smart Dashboard for Smart Business. The privately held firm is based in Chandler, AZ.
For more information visit HIP DASH
Jason Benedict
Director of Public Relations
jason(at)eyefire(dot)com
480-282-3141