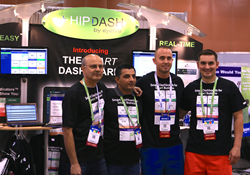 "Cut and paste a link, and specific data comes to life wherever it's needed."- Dattu JoshiChief Software Architecteyefire™, Home of HipDash™
Chandler, Arizona (PRWEB) May 20, 2014
Business intelligence doesn't have to be boxed up anymore. HipDash by eyefire™ now gives small business the ability to take any Smart Indicator™ that's been created and embed it in any digital environment and/or share it with anyone via text or email.
"Cut and paste a link, and specific data comes to life wherever it's needed, in real time," says, Hip Dash's Chief Software Architect Dattu Joshi.
"We got the idea from one of our clients," says HipDash by Eyefire's Chief Executive Officer Jeremy Bowman. "Chas Wilson, the Co-Founder and President of Master Networks, asked us if we could give him a way to embed a leaderboard indicator onto a page of his website where his people could see it. We loved the idea and went to work to make it happen."
The smart indicator now appears on CustomerHub, a membership site for Infusionsoft® users utilized by Master Networks.
"Great ideas come from our users," says eyefire™ Chief Technology Officer Jay Patel.
"We're all about listening to the community, and innovating based on real needs. This is a perfect example. Why restrict an SI (Smart Indicator) to a dashboard environment, even though the dashboard can show up on any device? Why not make each individual smart indicator available for a client to use wherever it's needed? Clients like Chas inspire us to keep pushing HipDash forward."
HipDash by eyefire™ gives small business leaders the power to see any metric at any time on any device. Version 1.0 easily integrates data from QuickBooks™, Infusionsoft®, and Google Docs™.
"Our goal is to put the right data in the hands of the right people at the right time," says Master Networks President Chas Wilson. "To make that happen I wanted to be able to embed a leaderboard in a strategic location where my members are always logging in. I'm blown away how fast the guys at HipDash created added that capability to an already robust platform. It's always nice to feel you're taken seriously. They created exactly what I suggested and they did it with unbelievable speed."
HipDash is available hipdash.com or you can search for Hip Dash at the Infusionsoft Marketplace.
About eyefire™
eyefire™ delivers a comprehensive and simple reporting data system for small businesses. Its web-based HipDash solution gives small business leaders the power to see any metric at any time on any device, so that decisions can be made on the fly with facts and not hunches. The privately held firm is based in Chandler, AZ.
Members of the Arizona-based eyefire™ team include Jeremy Bowman, Chief Executive Officer; Woods Davis, Chief Marketing Officer; Jay Patel, Chief Technology Officer; and Dattu Joshi, Chief Software Architect.