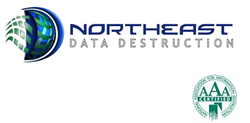 Plainville, Massachusetts (PRWEB) August 30, 2013
Massachusetts- Northeast Data Destruction, a division of Miller Recycling Corporation, would like to inform all medical practices of the new Amendments to HIPPA, (Health Insurance Portability and Accountability Act), recently passed by Congress. These Amendments will dramatically increase liabilities related to improper disposal of health care information.
According to the National Association of Information Destruction's research, most doctors, dentists, and health care professionals are unaware of the dramatic new liabilities created by the HITECH modifications to HIPPA.
Medical practitioners are now legally required to alert authorities and patients when their personal information has been put at risk.
Revision of all Business Associates Agreements - The HIPAA Rule requires that covered entities and business associates enter into contracts with their business associates to ensure that the business associates will appropriately safeguard protected health information.
HIPPA fines were increased from a maximum of $25,000 to $1,500,000, according to the (HHS) Department of Health and Human Services. Fines will be mandatory for certain violations - specifically the disposal of patient information that is not properly safeguarded/destroyed.
To increase HIPPA enforcement the amendment now requires that the State's Attorneys General be responsible for HIPPA compliance. AG's have already demonstrated their inclination to enforce data disposal provisions in their states. They are also being trained by the Office of Civil Rights to more effectively enforce HIPPA.
Northeast Data Destruction provides an "ALL SHRED" program to assist all medical and health care facilities. We can ensure that all material is properly and securely safeguarded, collected, removed, and destroyed. "It is a mistake to give your employees the decision to verify if it's "confidential" information - or not", said Randy Miller, Company President.
For more information regarding this article you may follow Northeast Data Destruction on:
Twitter
Facebook
Click here for more information, Or call 800-783-6766
About Miller Recycling Corporation
Operating since 1940, Miller Recycling is a third generation company with the experience required to assist with all paper, metals, plastics, and electronics recycling requirements. Northeast Data Destruction, our NAID "AAA" Certified confidential shredding division, will securely process all your sensitive documents, files, media, hard drives, tapes, CD's, off spec products and storage components.