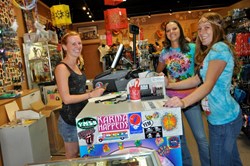 Hippie Shop Pops-Up for the holidays.
North Arlington, NJ (PRWEB) October 12, 2013
Hippie Shop, the world's largest retailer of hippie clothing and accessories, will be celebrating the grand opening of their new "pop-up" shop at 8 Ridge Road in North Arlington on Oct. 19, 2013, from 10 am to 7 pm.
The grand opening will mark the first time that Hippie Shop has operated a public storefront since sustaining massive flood damage during Hurricane Irene in 2011. Plans for the event include product giveaways, prizes, music and free, limited edition t-shirts for the first 100 paying customers.
The pop-up shop will only be open for twelve weeks, from Oct. 19, 2013 to Jan. 18, 2014. But local hippies are already excited about the chance to see what the new Hippie Shop storefront has to offer.
"I'm stoked!" said one Facebook fan.
"We are excited to open a local retail outlet again for the holidays. Even though this location is temporary we have a permanent location in the works," said Anthony Antonelli of Hippie Shop.
About HippieShop
Established in 1997, HippieShop is the world's largest retailer of hippie clothing and accessories. Via their top-ranking website, http://www.HippieShop.com, HippieShop sells hippie-style clothing, gifts, accessories, band-related merchandise, tie-dye, home décor, incense, hemp-organics, footwear and many more iconic items associated with the 1960s and hippie culture.
Over the last decade, HippieShop.com has delivered unique products to over 100,000 satisfied customers worldwide. HippieShop.com has also teamed up with well-known nonprofits - such as The Waterwheel Foundation –in an effort to give back to the community.
HippieShop fans and customers can learn more at the official website HippieShop.com.
HippieShop fans can also follow along via social media at: FaceBook