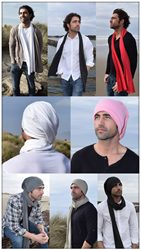 BEND, Ore. (PRWEB) December 09, 2016
Hippinie has proudly announced a new patent pending beanie design that brings new and innovative updates to one of the world's most favorite head warmers.
https://www.kickstarter.com/projects/hippinie/hippinie-the-multi-functional-tool-for-your-head
Hippinie is a new type of cold weather gear invented by outdoor enthusiast Jake Clement. The multi-functional beanie looks simple at first glance, but when the temperatures drop, it can turn a few heads. Extending into a full length scarf, it gives additional cover as needed to a user's head, neck and face, reducing multiple cold weather accessories down to one. When not in use, Hippinie can be worn as a regular beanie, a fashionable scarf, or simply tied around the waist and conveniently stored until needed.
The Multi-functional beanie boasts many universal features, including:

Seamless Finish: Made on the same machines that socks are made for a comfortably soft and seamless finish.
Lightweight, Breathable and Moisture Wicking: High tech mixture of fibers wicks moisture away from the body, so you can stay dry, and keep warm.
Versatile Style: Both ends can be worn as a beanie. Extends into a full length hollow scarf that can be worn in a number of fashionable ways.
One Size Fits All: Comfortably stretchy and easily fits any head size.
Bold Colors: Comes in seven heathered colors – White, Charcoal, Pink, Red, Grey, Sage Green, Navy Blue
"Hippinie is not only a great looking beanie, but it's functional, comfortable, and there's nothing else like it!" says Jake Clement, CEO and founder of Hippinie Inc. "I love beanies and have worn one almost every day for the past ten years. I'm always outdoors and temperatures constantly fluctuate. After a year of testing Hippinie in the elements, it's now the only beanie I use. It's convenient on the go and gives me the additional cover I need when things cool off."
Hippinies Kickstarter campaign has already reached 180% of its funding goal, and still has over thirty days to go. The early bird rewards are already gone, but until the campaign ends, backers will continue to get special pricing with rewards still available for as little as $40.
About Hippinie
Hippinie, Inc. founded by Jake Clement is a utility apparel design company located in Bend, Oregon. Their goal is to create a full line of versatile apparel that gives users complete comfort and control on all their outdoor adventures.
Media Contact
Company name: Hippinie Inc.
Name: Jake Clement
Phone: 541-588-0699
Email Address: JakeClement(at)Hippinie.com
Media Kit: https://drive.google.com/drive/folders/0B6_GbgRgogdsQlQyYU9JS0QwbW8?usp=sharing