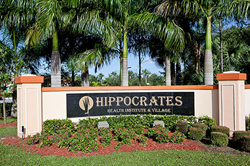 Let food by thy medicine and medicine be thy food. - Hippocrates
West Palm Beach, Florida (PRWEB) May 21, 2014
On May 30 – June 1, 2014, Brian Clement and Anna Maria Clement of the Hippocrates Health Institute, West Palm Beach, Florida join forces with the George W. Yu Foundation to host a groundbreaking meeting of multi-disciplinary experts focused on the metabolic common denominators underlying cancers, Alzheimer's and Diabetes. In addition to scientists, clinical doctors, health experts, Hippocrates Health Institute invites nutrition journalists, writers, celebrities, politicians, lobbyists, public relations, and social media experts to build momentum for the public awareness and empowerment regarding the present state of the fight against cancer and the prevention of disease.

Why was Tom Seyfreid's Boston Globe article cancelled one day before publication? Because many feared it would cause too much controversy in the medical establishments of America.
Why is it that for the last 80 years it has been known that eating a low calorie nutrient dense diet increases longevity by 30%, arrests cancer growth and preserves the brain from degeneration? Yet there is neither a drug nor supplement that mimics this phenomenon.
Fundamentally, by "drilling down" to the individual cell of the human body, it could be a defect in its energy generators called "mitochondria" that holds the key to understanding many diseases; whether it gets too little fuel, the wrong kind fuel, or too much fuel, or even a mutated mitochondrial using only food like sugar.
Working together, there is a unique and genuine opportunity to shift the paradigm in the direction of a universally recognized acceptance to the metabolic approach of cancer. Not only will it have impact on people afflicted with cancer now, but also in the long-range implications of prevention.
Though so much evidence points to a defective energy metabolism or bioenergetics in so many diseases and simple nutritional manipulations can play such an important role in reversing poor health and chronic diseases, there is little attention, nor awareness, among the lay public and professionals. The discoveries of new molecules that selectively injure cancer cell energy are too critical to ignore, yet there is no funding to expand the research and development. So the initiative of this meeting is to unite and form the consortium needed to bring these concepts to a broad audience – the world.
Hippocrates Health Institute represents one of the best run centers for nutrition using low calorie, high nutrition and easily digestible raw food diets which correct and retard many modern illnesses with a long history dating back to 1950s with Ann Wigmore. Now the institute is located in West Palm Beach, Florida and has been active for over 50 years and sees up to 2000 people worldwide every year. Hippocrates is one of many other institutes which practices low calorie diets and there are others such as the Caloric Restricted Society at Loma Linda, the Kushi institute in Massachusetts, Optimal Health in California and Texas, Ann Wigmore Institute in Puerto Rico etc.
The meeting is not a typical conference but a gathering of people from multi-disciplines to define common grounds supporting a "metabolic approach to diseases" such as cancer and Alzheimer's. There will be scientists, medical doctors, health experts, journalists and media specialists, religious representatives, philanthropists, to share expertise and resources to build a consortium and to make this knowledge clear and available to the public. The daunting task ahead is how to make the information accessible to the public and give everyone the knowledge and power to change their lives.
Hippocrates Health Institute flourishes within a lush, tropical 50-acre setting in West Palm Beach, Florida. Under the guidance of a knowledgeable and compassionate team, guests from all over the world benefit from health and nutritional counseling, non-invasive remedial and youth-enhancing therapies, state-of-the-art spa services, inspiring talks on life principles and a tantalizing daily buffet of enzyme-rich, organic meals. For over 60 years, Hippocrates Health Institute has literally taught hundreds of thousands of people how to help themselves actualize a life that is free from premature aging, disease and needless pain.
Media and press inquiries are welcome. Please contact Lindsay Johnson, Social Media Coordinator, at Hippocrates Health Institute. She can be reached by phone at (561) 471-8876, ext 2014 or by email at ljohnson(at)hippocratesinst(dot)org.