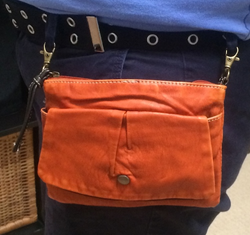 Add pizzazz to any outfit with this stunning bag!
New York, NY (PRWEB) October 22, 2014
Nifty-Nifty.com, makers of hands-free, 'As Seen on TV' fashion accessories, is pleased to announce the arrival of their groovy new Crossbody Hipster, the Boho Hip Purse.
"We at Nifty-Nifty.com recognize that everything old is new again, when it comes to fashion trends. That's why we've designed this totally retro hip bag, with a twist. The Bohemian chic Boho Hip Purse – Crossbody Hipster, is the first cell purse of its kind; acting as hip bag, shoulder bag, or crossbody bag, according to personal preference", explains Nifty-Nifty.com co-founder, Wendy Miller. "Exceptionally soft, and unsurpassably fashionable, this multi-compartment purse, which perfectly fits even the largest of cell phones, is sure to be a big hit with mod shoppers everywhere."
Explore Nifty-Nifty.com's Boho Hip Purse, here:
*http://www.nifty-nifty.com/boho-hip-purse-crossbody-hipster/
The Boho Hip Purse – Crossbody Hipster by Nifty-Nifty.com is a sensationally soft, manmade cell phone holder, fashioned with a slightly worn leather look. Gold-toned hardware adds an element of pizzazz to this casually stunning bag, which can be paired easily with day or evening attire.
Complete with three zippered compartments and one magnetic snap close cell phone pocket, the Boho Hip Bag, which measures 7.5 inches across and 5.5 inches high, provides plenty of room, and organization, for all one's small belongings.
Plus, there are oodles of unique colors from which to choose, including; Smoothie Blue, Jumping Jack Black, Far Out Brown, Neato Green, Right on Red, and Floor Me Orange.
The Boho Hip Purse by Nifty-Nifty.com has it all, and then some; comfort, convenience, and major fashion moxie. Check it out, at Nifty-Nifty.com, today.
About Nifty-Nifty.com     
Nifty-Nifty.com caters to a diverse clientele from all over the globe. As the world's leading online retailer of innovative versatile products, Nifty-Nifty.com specializes in nifty products such as Biker Purses, Phubby wrist cellphone holder, Specs-In-A-Sec magnetic eyeglass holders, Cell-Fie HipBand Cellphone Holders, Hipster Bags and Cross Body Cell Phone Purses, among others. All products are offered at highly competitive prices with zero charge shipping in the USA and Canada. 
http://www.Nifty-Nifty.com
Tel. 858-248-2302