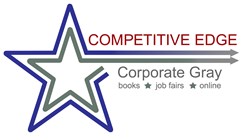 Corporate Gray Job Fairs are unique in their ability to attract a large number of top employers.
Fairfax Station, VA (PRWEB) October 02, 2013
The government shutdown will not delay the Military-Friendly Job Fair sponsored by Corporate Gray to help corporations hire military veterans. Dozens of employers and hundreds of veterans will participate in the Job Fair at the Virginia Beach Convention Center on Wednesday, October 9th. Corporate Gray, a small private veteran-owned business that has held job fairs since 1997, will continue to host jobs fairs despite the Federal Government shutdown.
Corporate Gray, a military-to-civilian transition firm, indicates that the companies attending this event are committed to hiring veterans. Each employer has paid a registration fee to meet the military job seekers who attend for free. These companies value the military training, experience, and skills that veterans bring to the workplace. After a previous Corporate Gray Job Fair, a recruiter from HP exclaimed, "Great Candidates!" and a financial services firm requested, "Please invite us to the next job fair."
The October 9th event has attracted more than 50 employers that represent a wide variety of industries and have many types of positions available. According to Carl Savino, President of Competitive Edge, "Corporate Gray Job Fairs are unique in their ability to attract a large number of top employers. Many other job fairs do not let job seekers know ahead of time which companies will be in attendance, but we list all registrants on our website as soon as they sign up." Participants in next week's event will include Amazon.com, Coca-Cola, Eaton Corporation, Hewlett-Packard, MeadWestvaco, Sentara Healthcare, State Farm, Lockheed Martin Corporation, URS, Alban Caterpillar, Engility Corporation, Turner Broadcasting System, Camber Corporation, Robert Half International, DDL OMNI Engineering, L-3 Unidyne, and many more.
Corporate Gray schedules eight job fairs each year that are especially for separating, retiring, and former or retired military personnel of all ranks and services, including current and former members of the military reserves and National Guard, and their adult family members seeking employment. The October 9th Job Fair at the Virginia Beach Convention Center will be open from 9 a.m. until 12:30 p.m., with a free preparatory seminar starting at 8 a.m.
About the Company
Competitive Edge Services, Inc., which does business as Corporate Gray, provides military-to-civilian books, job fairs, and online services. Since 1997 Corporate Gray has distributed more than 3 million copies of its military-to-civilian career transition books for free to everyone who has separated or retired from active duty. The company has held more than 100 job fairs for veterans throughout the U.S. and overseas. A small veteran-owned business based in Fairfax Station, Virginia, Corporate Gray was founded by Carl S. Savino, a former Army officer and West Point graduate. More information is available online at http://www.CorporateGray.com.